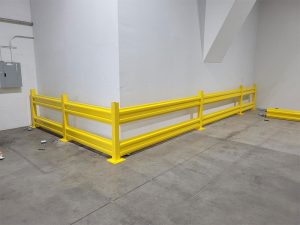 Fork lift injuries are a serious problem in the warehouse industry. In fact, 70 people were killed in forklift accidents in 2021, and more than 7,000 additional fork lift related injuries required days off work in 2020. These large numbers point to the need for proper training and additional safety precautions, such as fork lift guard rail systems, to help reduce the number of workplace injuries. At Twin Cities Fence, we're a fully licensed and reputable folk lift guard rail system installer ready to handle all of your needs. Give us a call today to get a free estimate on any type of fork lift guard rail system that may work for your organization.
Why Invest in Fork Lift Guard Rail Systems?
The tightening of the labor market has increased turnover in the workplace making safety and training that much more important. No longer can you always rely on decades of experience when hiring for various positions. Folk lift operators should always be trained properly, but mistakes can still happen, which is where fork lift guard rail systems can help.
Below are several reasons why installing fork lift guard rail systems can benefit your organization.
• Protect Employees – These guard rail systems help to protect your employees from injury. These metal railings are typically located in high-traffic areas or near large inventory areas.
• Protect Inventory – Inventory costs continue to rise, which is why avoiding waste is so important. Folk lift guard rails can help you protect your inventory to ensure you're achieving maximum profitability.
• Protect Facility – Your commercial building can take a beating when your employees are using fork lifts to move large amounts of inventory. Warehouse guard rail systems help you protect your walls and other areas of your facility to ensure you're able to continue doing business safely and efficiently.
Need a Quote for Fork Lift Guard Rail Systems?
If you're looking for a team of fork lift guard rail system installers, you've come to the right place. At Twin Cities Fence, we have a team of experienced installers who can access the needs of your industrial facility and come up with the ideal guard rail system that will suit your needs now and in the future. Give our team a call at (612) 443-1948 to schedule a time for one of our guard rail system installers to visit your facility for a comprehensive consultation.