Fence Repair Company MN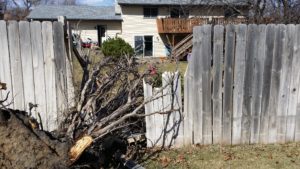 When you've invested in an extensive fencing system for your home or business, the last thing you want to think about is making fencing repairs. Unfortunately, repairs can be an inevitable part of owning a property with a fence, especially if the material of your fence isn't as well-suited to Minnesota weather as other materials might be. Depending on the material and age of your fence, as well as any damage it's sustained, fence repairs can be a difficult, time-consuming, and costly endeavor, especially if you don't know how to find a reliable Twin Cities fence repair company. Luckily, no matter what your fence is made of or how badly it's damaged, Twin Cities Fence is here to make the necessary repairs to get your fence looking good as new again. We install and service wood fences, vinyl fences, steel and aluminum ornamental fences, and wooden fences, ensuring that whatever your fencing system needs are, we're the right company for you. As a fourth-generation fence installation and repair company, we've become a trusted commercial and residential fence repair service in Minnesota, offering great rates and timely service.
Fence Section Repair and Replacement
Fences are not, unfortunately, infallible. Just as any outdoor structure can break down, become weather-damaged, and simply age past its expiration date, fences are not immune to the trying weather of Minnesota or the passing of time. However, fences also don't usually wear out completely all at once. Just like your home, different pieces need replacing at different times. While you might need to replace your entire fence or large sections all at one time, chances are good that you'll need slightly smaller repairs over a period of time. That's why we invest our time in helping home and business owners with their fence repair needs year-round – because we'll only make the repairs you need, leaving perfectly good sections of fence alone until they need replacing. Making fence repairs to small sections of fencing can be difficult, though, for inexperienced fence repair companies, but at Twin Cities Fence, we know how to repair and replace small sections of fence with materials that blend with the rest of your fence, ensuring that the newly replaced sections match the style and color of your original fence.
24-Hour Emergency Fence Repair Service
One of the benefits of choosing Twin Cities Fence for your fence repair needs is our commitment to constantly reliable service. Unlike other fencing installation companies that offer fence repairs as an "added bonus" or additional service, we're a fencing installation and repair company, which means that, with us, fence repair isn't an additional service, it's one of our main services. Because we prioritize our customers, we make sure that we've available for year-round 24-hour fence repairs. That means that if your fence is damaged in a storm, if a section is knocked over, or a section or your entire fence has been so weather damaged that it's falling apart, we'll be available for emergency fence repairs. That way, you won't have to worry about being able to let your animals or children outside to play, having your customers or clients see your business in a broken-down state, or worrying about the security of your home or business while you wait for repairs – because you won't have to wait!
Choosing a Commercial or Residential Fence Repair Company
When you're looking for a Twin Cities fence repair company, it can be daunting trying to find someone reliable. So with so many fence repair services to choose from, how do you know which is the right company for you? To start, look into the services a fence repair company offers. If it's just a fence repair company and doesn't do fencing installation work, you can probably bet that they aren't a reliable fence repair service; how can they replace a fence if they don't install them in the first place? You should also look into whether a fence repair company specializes in repairing specific types of fences, as these companies will often charge more. Although "specialty" repair companies would like you to think that they're more reliable and experienced because they have a specialization, it usually just means that they'll charge you more because they receive less business than companies that offer a variety of services. While looking for a fence repair company that's right for you, be sure to weigh your choices carefully to avoid companies that will take advantage of you or fail to effectively repair damage.
If you're in need of emergency fence repairs or you're looking for a reliable twin cities fence repair company to replace your weather-worn fence, contact Twin Cities Fence. Call us today at 612-443-1948, or email contact@tcfmn.com to receive a free estimate for affordable fence repairs.