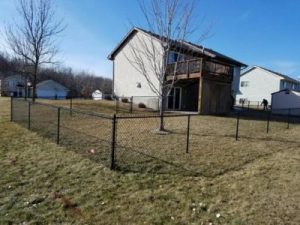 When it comes to enhancing your Isanti property's aesthetics, privacy, and security, the right fence can make all the difference. Twin Cities Fence, your trusted fencing partner in Minnesota, offers a wide array of professionally installed fence types that cater to your unique needs and preferences. In this blog post, we're excited to introduce you to the diverse range of fencing options available, helping you elevate your property's appeal.
The Classic Charm Of Wood Fencing
For those who appreciate the timeless elegance of natural materials, wood fencing is an ideal choice. Wood fences exude warmth, charm, and a rustic appeal that complements various architectural styles. Whether you're seeking privacy, defining boundaries, or adding character to your property, Twin Cities Fence offers expertly installed wood fences that blend seamlessly with your surroundings.
Low-Maintenance Elegance In Vinyl Fencing
Vinyl fencing has gained popularity for its durability and hassle-free maintenance. With a variety of styles and colors to choose from, vinyl fences offer the look of wood without the need for regular upkeep. Twin Cities Fence specializes in installing vinyl fences that provide lasting beauty while requiring minimal maintenance, making them a practical choice for busy homeowners.
Security And Style With Ornamental Iron Fences
For homeowners who prioritize security without sacrificing style, ornamental iron fences offer the perfect blend of both. These fences combine intricate designs with robust materials to create a barrier that enhances your property's security while adding a touch of sophistication. Twin Cities Fence is well-versed in installing ornamental iron fences that provide the best of both worlds.
Get Privacy And Protection With Chain Link Fencing
Chain link fencing is a versatile option that suits a variety of applications, from residential to commercial. Whether you're safeguarding your property, enclosing a sports field, or creating a dog-friendly space, Twin Cities Fence's professionally installed chain link fences offer durability and functionality while ensuring your privacy and security needs are met.
Custom Fencing Solutions For Every Need
At Twin Cities Fence, we understand that every property is unique, and every homeowner has distinct requirements. That's why we offer custom solutions tailored to your preferences and needs. Our experienced team works closely with you to design and install the perfect fence that complements your property's aesthetics and serves its purpose effectively.
Fence Contractor Isanti
Elevating your property's appeal, privacy, and security is as simple as choosing the right fence. With Twin Cities Fence's diverse range of professionally installed fence types, you can enjoy a solution that aligns with your vision and enhances your property's value. Contact us today to explore your options and embark on your fencing journey with Twin Cities Fence.