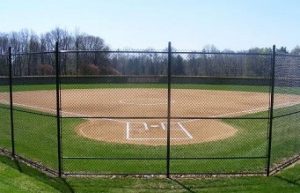 As we head into our second year of living through a pandemic, the world has naturally leaned in to spending more time outdoors and breathing in fresh, naturally circulated air. We are urging outdoor sports, including those that were traditionally inside, to go outside. From basketball games to volleyball matches, playing outdoors is now more important than ever. If you are looking for a sport court fence installation company for your commercial or residential property in Minnesota, Twin Cities Fence is the perfect option for you.
Fencing In Sports Facilities
Fences are the perfect solution, both aesthetically and functionally, for whatever type of sport you are considering. When choosing the right fencing system for you, we can offer the most ideal plans based on your sport, your budget, the property layout and any other factors that you may need to consider. From security reasons to purely aesthetics, we have got you covered with the highest quality fencing systems, fencing materials and professional installation services.
Choosing Your Sport Fence System
While chain link fencing seems to be the most common sport fencing type, there are many other options to consider. Chain link fences are practical, affordable, durable and can be customized to fit your needs. You can coat with PVC, color your fence or keep it as the regular galvanized steel look. While wood fences aren't traditionally used for sport court fencing, it doesn't mean it's impossible! It can still provide privacy and designate borders for your sport facility. The same can be said for your vinyl privacy fencing systems. This option allows for more weather resistance and lower maintenance versus the wood. Another common, classic, sports fencing system is the aluminum and steel fence options. Often used for swimming pool fences as well as security fences, this modern look is both timeless and aesthetically pleasing. If you are looking to "go green," however, Trex fencing is the perfect system. It is durable, weatherproof and extremely low maintenance. If you want a gorgeous look with essentially no maintenance, this is the way to go!
There are so many options for sports court fencing. At Twin Cities Fence, we are here to help you with any and all of our sport facility fencing needs. Whether you are a commercial, residential or municipal property owner in Minnesota, our professionals here at Twin Cities Fence can help. For more information about our services, give us a call today. Contact Twin Cities Fence at 612-443-1948 and let us walk you through our process and provide you with a free estimate of your own.