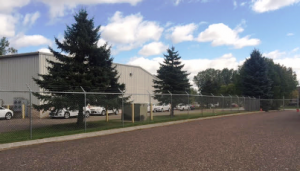 Has installing a fence on your commercial property been a high priority lately? Whether you need to create a defined space or you are looking to make your commercial property more secure, our team at Twin Cities Fence has you covered. We specialize in commercial fencing installation and have plenty of fencing options for you to consider.
We are proud to be 4th generation fencing professionals, and our clients are happy about it too. The reason is because we have so much experience that not many of our competitors can match. Thanks to the experience we have gained over the years, we work extremely well with all of the various fencing materials. There is truly no fencing job that intimidates our staff. We know exactly how to get the job done and can assure you that it will be completed on time as well.
Commercial Fencing Options
What is so great about working with our commercial fencing installation team is that we take the time necessary to ensure that you are getting the exact fence that you want. We never push our clients into a particular style fence. Instead, we listen to your needs and will provide our recommendations if you need help choosing the best option for your property. Our common commercial fencing options that we regularly install include:
● Chain Link Commercial Fencing – This versatile option is available in various heights, weights and can be color coated as well. Made from galvanized steel, this is a very popular option to help define property lines and keep any potential intruders off of your property.
● Vinyl Commercial Fencing – This style commercial fence provides more privacy than other fences. Additionally, vinyl fencing offers a more modern and contemporary look for your property if curb appeal is a high priority. Many of our clients choose this option because it is a very low maintenance fence.
● Wooden Commercial Fencing – This traditional fencing option provides you with plenty of options when it comes to design. Whether you are looking for a picket fence look, design patterns or a privacy design, our fencing experts have you covered.
● Ornamental Commercial Fencing – We are proud to offer ornamental commercial fencing in both aluminum and steel, which will last a long time on your property. These options are durable and weather resistant.
As a commercial property owner, your opportunities are endless when it comes to your commercial fencing installation needs. To schedule a free estimate from our 4th generation fencing professionals at Twin Cities Fence, give us a call today at (612) 443-1948.