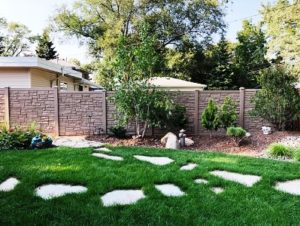 The obvious advantage of having Twin Cities Fence install a privacy fence on your property is that it prevents neighbors from becoming "nosey" neighbors. If you happen to have neighbors who you prefer to keep at a distance, our team would be happy to install a privacy fence between your home and theirs. Assuming that your neighbors are wonderful people whose company you thoroughly enjoy, a privacy fence installed by Twin Cities Fence can also serve the purpose of allowing you and your family members to enjoy the benefits of concentrated family time without the pressure to implicitly invite any and all neighbors to join you at a moment's notice. Our team can install a wide variety of privacy fences depending on your preferences and your needs including:
● Vinyl Privacy Fences
● Chain Link Fences with Privacy Screens
● Privacy Wood Fences
Benefits of a Privacy Fence on your Property
There are also many other advantages to installing a privacy fence. Hiring Twin Cities Fence to install a privacy fence also adds value to your home. Property evaluators consider a new fence to be a safety and security enhancement, which has a direct effect on your home's resale value. A privacy fence, because it adds to your home's security, can also result in a lower insurance rate. Just as homes that have signs indicating the presence of an alarm system discourage would-be burglars from breaking in, so too do privacy fences. Properties with privacy fences communicate greater difficulty for potential thieves to gain access to your home.
Another consideration that may not come to mind automatically is that privacy fences can protect your property by serving as a boundary for animals. As humans develop more and more land, large animals such as deer are becoming more plentiful. And even the most beloved non-domesticated animals can do great damage to your property. Similarly, a privacy fence of the quality installed by Twin Cities Fence can create a safe space for your own pets to roam freely without your having to worry about their getting lost or injured. Our privacy fences will keep out the animals you do not want in and keep in the animals you do not want getting out.
Experienced Fence Installation Company
We offer a range of fencing options and we have deep knowledge of the kinds of limitations placed on fencing by homeowners' associations. So, you can feel assured that our privacy fence installation will satisfy you in every necessary way. Give us a call at 612-443-1948 and we will be happy to answer any of your questions about privacy fence options.