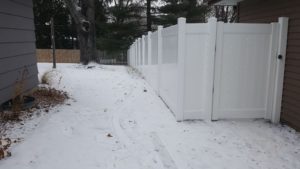 Do you love your property, but feel like you just need some added privacy? At first glance, you may think that you are limited when it comes to the types of privacy fences to choose from, but the truth is that our experienced staff at Twin Cities Fence offers a wide variety of privacy fence options. To top it off, you don't have to wait until the warmer months of the year to request an installation job like so many other fencing contractors require. At Twin Cities Fence, we offer installation services year around, so be sure to take advantage of our winter install options.
Traditional Wood Privacy Fence
The first type of fencing material that probably comes to mind for you when thinking about a privacy fence is the traditional wood option. This style fence serves as a true boundary for your property. A wood privacy fence is tall, hard to climb and blocks visibility onto your property. Thanks to the decades of experience that our fencing professionals bring to the table, we can incorporate unique designs into your wooden privacy fence, such as a colonial design or lattice wood decorative design.
Durable Vinyl Privacy Fence
Over recent years, vinyl fencing has seen a spike in popularity, and we don't see that changing anytime soon. A vinyl fence can be installed to match any style house. Additionally, vinyl fencing is a bit more durable and long lasting that a wooden privacy fence. This type of material doesn't warp, rot, corrode, rust or break down. It's virtually maintenance free! Lastly, this style privacy fence doesn't require a regular paint job like many other privacy fencing styles.
Chain Link Fence
If affordability is the number one requirement on your list, then the chain link privacy fence may be just what you've been looking for. Chain link fencing doesn't provide much privacy; however, our staff incorporates decorative polyethylene slats into your fence. This provides a layer of tint, making it a bit more difficult to see through your chain link fence.
No matter what you are trying to achieve with your privacy fence, our team at Twin Cities Fence has you covered. If you are eager to get your privacy fence installed, take advantage of our winter install option today. To request a free estimate on your wood, vinyl or chain link privacy fence, give our fourth generation roofing company a call at (612) 443-1948.