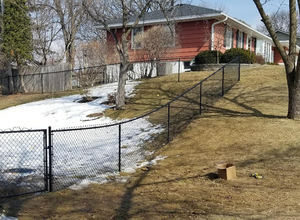 Because of the unique ability to provide an affordable and durable protection boundary for properties all across area, chain link fencing is a very popular option. Twin Cities Fence has great options for adding color into the equation without sacrificing durability. In fact, our black chain link fence has an additional layer of protection from weather damage with a PVC coating added on top of a galvanized steel framework. The list of commercial, industrial and residential applications for chain link fencing is almost endless do to factors such as versatility and affordability. An innovative installation process allows the crew from Twin Cities Fence company to install both galvanized steel and color coated chain link fences all year round.
Galvanized Steel Chain Link Fence Solutions
Chain-link fencing offers an economic solution for individuals and companies that are budget conscious. Twin Cities Fence installs a high-grade chain link fencing material that is engineered to provide excellent results in some of the harshest climate conditions in the country. Our chain-link fencing is made of durable galvanized steel that has been hot-dipped into a zinc coating that adds protection from corrosive elements. A nice variety of gates and accessories can be added for a complete fencing solution that won't break the budget.
Benefits of Color Coated Chain Link Fencing
Galvanized steel chain link fences are designed to provide numerous benefits when installed properly. When your fence company offers you with a color coated chain link fence option, they are providing you with an added layer of protection from the elements. Below is a list of just some of the numerous benefits of having a colored, chain-link fence installed by Twin Cities Fence.
1. Very Affordable Fencing Solution
2. Increased Property Value
3. Attractive Appearance made to blend or contrast environment
4. Flexible Fabric reduces cracking and chipping
5. Durable Materials resist rust and corrosion
6. High Impact Resistance
7. Security with Years of Protection
8. Versatile Applications (homes, schools, highways, tennis courts, high security, dog park, playgrounds, garden fencing, perimeter definition, dog kennels, etc.)
9. Low Maintenance Fencing
10. Corrosion Resistance Coating
11. Die Cast Aluminum Fittings
12. Privacy Slats Available
13. Versatility in Chain Link Fence Height and Weight
14. PVC Coating provides ultra violet light protection against fading or decay
Professional Year Round Fence Installation Company
Now that you have a better understanding of ways that a chain link fence can add value, protection and security to your property, the next step is to call Twin Cities Fence for a free consultation. There's no reason to wait for spring. Our innovative installation process allows for professional installation of high quality, black chain-link fences all year round.
Call Twin Cities Fence for a Color-Coated Chain-Link Fence Consultation and Estimate at: (612) 443-1948.