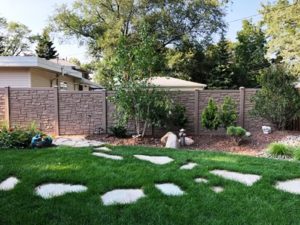 Is your white picket fence looking a bit yellow and old? Maybe you have a wooden privacy fence that needs to be replaced? If so, you're in luck as Twin Cities Fence offers a variety of paint or stain free fence options for those who are looking for maintenance free fencing options. Centrally located in Blaine, MN Twin Cities Fence is the premier fencing company in Minnesota and the only fencing Contractor that installs fence year around.
We provide all types of fencing options for residential and commercial customers. Whether you're looking for new fence installation or fence repair services, our team is more than up to the task.
Popular Paint or Stain Free Fence Options
When our customers come to us looking for paint or stain free fence options, we introduce them to all of the new fence materials that have become popular over the past few decades, many of which require little to no maintenance. A few of our most popular fence materials include:
• Aluminum Fencing – Aluminum fences are meant to be extremely strong and low maintenance. Aluminum is much more durable than wrought iron, but still has the same look and feel. Aluminum fences are popular for both commercial and residential customers.
• Vinyl Fencing – Homeowners or business owners looking for a more contemporary look are starting to choose vinyl fencing in greater numbers. Vinyl fences come in a wide array of options including a vinyl picket fence, an ornamental vinyl fence as well as a vinyl privacy fence to give you an additional level of privacy while you're spending time on your property.
• Trex Fencing – One of the newest fencing materials that we're most excited about is Trex. You may be familiar with Trex as it relates to decking materials. Trex is a highly versatile recyclable material that is a composite, which is not only eco-friendly, but requires little if any maintenance. Trex fences come in a variety of different colors and are extremely durable.
Put Away the Paintbrush and Install a Paint or Stain Free Fence
Gone are the days of spending hours outside painting or staining your fence to prevent it from becoming damaged due to the harsh Minnesota weather. Thanks to advances in fence technology, you now have quite a few options when it comes to paint or stain free fence materials. If you have questions about any of the fence materials mentioned in this blog, feel free to reach out to the Twin Cities Fence team by phone today at 612-443-1948. We'll be happy to come out to your home or business to talk about your needs and come up with an ideal solution. Conveniently located in Blaine, Minnesota.