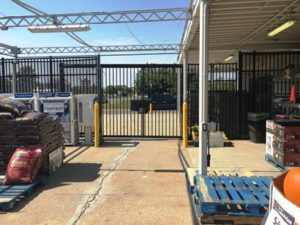 Having a durable fencing system that surrounds your home, business, school, industrial or commercial property is a great idea. Access to the grounds can become a big issue if you do not have a gate that allows entry when you want it and prevents entry of individuals or vehicles that should be restricted. Twin Cities Fence not only excels as a professional fence contractor, we also provide installation of quality gates in several different materials. As a trusted double wide gate installation company, Twin Cities Fence installs or repairs complete fencing systems with rolling gates, sliding or swing gates that perform with great style no matter if you have an aluminum, steel, chain link, PVC or wooden fence.
New Residential Driveway Gate Installation
When you drive up to a residential property that has an extra wide security gate system installed, you take notice of an estate with distinction. Installation of a new driveway gate requires a great bit of knowledge of durable fencing materials, security features and installation techniques that can add to the home's privacy, security and curb appeal. There is no need to worry about matching a new gate to an existing fence. Twin Cities Fence provides excellent choices in rolling, swinging or sliding gates that are designed compliment an existing fence while added or restricting access to your home and property.
Commercial Double Wide Gates
Are you looking for a commercial double swing gate or other type of gating system for your property? This two piece gates can be added to an existing fence or installed right along with a new fencing system from Twin Cities Fence. They come in pre-formed sizes or can be ordered in a custom width to fit any spacing need. With the help of a commercial gate installation expert, just about anything is possible for creating the perfect level of security for your company's needs.
Roller Gates and Swing Gate Styles
Popular double wide gate styles include aluminum or steel dual gates that come in a wide variety of styles to match or compliment fencing on the property. You can choose from decorative elements like rails or spear top pickets that add a dramatic effect. Metal gates can be made to swing open, slide open on a roller system.
Chain link roller gate fences are commonly used for both residential and commercial properties. Rollers can be installed to easily maneuver over driveways to allow entry or exit from the fenced in area.
Wood fences, vinyl and PVC fences can also be fitted with a double gate made out of the same materials. To get the best match possible with the wooden or composite fencing material it is best to have the gates installed at the same time as your new or replacement fence or contact the original fencing contractor to discuss your most viable options for matching or enhancing an existing fence.
Trusted Gate Installation and Repair Contractor
Adding a convenient, yet secure entry gate to your property can increase security, privacy and value of the home or business. Install a new double wide driveway or perimeter gate onto an existing fence or during installation of the entire fencing system. Twin Cities Fence is a trusted contractor with excellent choices in styles and materials along with superior customer service and satisfaction. Contact us for a new gate installation or if you have a damaged or faulty gate in need of repair.
Double Wide Gate Installation Company in Minnesota
For the best options in Double Wide Gate Installation contact Twin Cities Fence at (612) 443-1948 or Email: contact@tcfmn.com