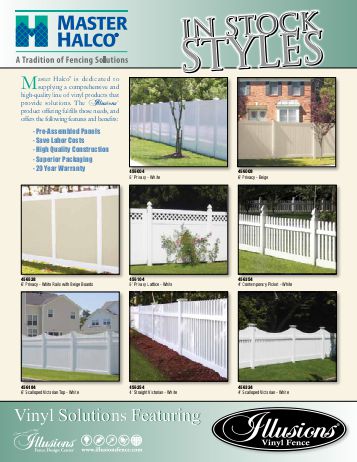 There are many different materials that can be used when building a fence, of those, vinyl is one of the most versatile, durable and affordable fencing products installed today. Twin Cities Fence offers a wide variety of PVC vinyl fencing options that can easily compliment just about any property. You can choose from several different vinyl fencing options that come in contemporary and ornamental styles.
St. Paul, Minnesota has some of the harshest weather conditions in the continental U.S. Residents can expect rain, snow, bright sunlight, wind and ice as the seasons progress. The fencing material that you choose to have installed needs to be up to the task of enduring every season like a champ. All weather, low maintenance vinyl fences provide many benefits that make vinyl an excellent choice for residential and commercial applications.
Benefits of Vinyl Fence
When you weigh all of the positives and negatives of various fencing materials it is hard to exclude vinyl fences from your short list. Homeowners, municipalities and businesses are choosing vinyl fencing because of the numerous benefits that this durable material can provide.
• All Weather PVC Materials – When it comes to choosing a long-lasting fencing material that can take a beating from the South St. Paul, MN climate, vinyl tops the list. 100% vinyl PVC is resistant to water, mold, pests, wind, rust, rot and decay.
• Vinyl Fences are 5x Stronger than Wood – Vinyl is made up of some of the most durable compounds around. The beauty of vinyl fencing materials can be enjoyed for many years due to its durability, strength and flexibility. High winds and physical force must be pretty extreme before they can have an impact on the protection that a vinyl fence can provide.
• Versatile Vinyl Fencing Options – If you are looking to add an attractive fence that is made in a contemporary style, vinyl is for you. If you are looking for an ornamental style fence that will last for many, many years, don't overlook vinyl. Adding charm to home is easy with a vinyl picket fence. With all of the many different styles and design features, vinyl is one very versatile option.
• Minimal Maintenance Required – One of the most desirable features of vinyl fencing is the ease of maintenance. You can forget about painting, sanding or staining with a vinyl fence that requires very little maintenance to remain attractive year after year. Simply pick up a hose and spray off dirt or debris.
• Color and Style Choices in Vinyl Fences – You can choose from several different style options when having a vinyl fence installed on your property. Vinyl picket fences, privacy fencing, contemporary and ornamental styles come in a nice array of heights, profiles, decorative details, colors, gates and more. Vinyl can mimic the look of a wood fence or provide an attractive alternative look and feel. Many vinyl fences come in white, tan, khaki or two-tone versions.
• Affordable Vinyl Fences – Considering the low cost options available with vinyl fences it is hard to resist having one installed on your own property. A vinyl fence can be very affordable at the initial installation and remain quite cost effective overall due to the lack of maintenance or repairs.
Professional Vinyl Fence Installation
Twin Cities Fence can professionally install an affordable vinyl fence on your property that you will love for its looks, durability and easy maintenance. We choose Legend Vinyl Fencing because we believe in the quality and versatility that comes with the many styles that they offer. Your beautiful new vinyl fence comes with a transferable limited lifetime warranty. This is just one of the numerous benefits that a high quality vinyl fence installation can provide.
In St. Paul and South St. Paul MN, contact Twin Cities Fence for more information on one of the most affordable and attractive fencing systems around. 612-443-1948