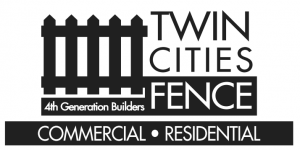 There are many reasons why you may decide that you want to have a fence installed on your property. For many, it is reassuring to have a fenced yard to keep your children and pets enclosed when they are outdoors, especially if you live near a busy street. You may also have a pool or other valuable items on your property that you want to secure. You may also decide to have a fence installed to limit the noise in your yard, and to provide you and your family with privacy and an added layer of security. We are all finding ourselves home more than ever, so now is a great time to partner with the team at Twin Cities Fence for a fence installation on your Isanti, Minnesota property.
Affordable and Long-lasting Fencing Options
Adding a fence to your property can increase your property value and does not cost as much as you might think. Our fencing contractors have experience with all types of fencing materials and can help you decide what is best for your property and for your budget. We listen carefully to exactly what you are looking for your fence to provide – safety, protection, privacy, or you may simply want to add a fence to improve the look of your property. We offer aluminum, steel, wood and vinyl fencing options in a wide range of colors and sizes to meet your needs. In addition, we stand behind our work and can repair your fence down the road should it ever become damaged by a storm. We use high quality materials and you can expect a fence installed by our contractors to last for many years to come.
Experienced Fencing Contractors in Isanti, MN
What sets our team apart from other local Isanti, MN fence contractors is that we work all year round. We understand that you may have questions for us outside of normal business hours, so we also offer 24-hour emergency service. Our customer service is unparalleled, and we take great care to offer prices that are affordable. Our contractors are professional and friendly and are providing all services contact-free. That means that you can receive a free estimate for a fence installation process and complete payment without coming face to face with a member of our team. During this uncertain time, we aim to protect our staff and our clients. We continue to work full time and have enjoyed working with many Isanti, MN clients over the last few months.
For more information about our fence installation services, call 612-443-1948.