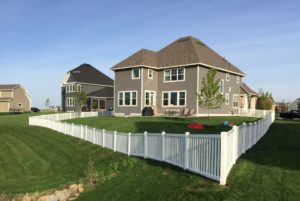 COVID-19 has caused significant changes to our daily lives. We are now encouraged to social distance, wear masks, and limit close contact with individuals outside of our immediate family. This has been difficult for many small, local businesses in the area, but we are all committed to maintaining safety for our customers and employees. Twin Cities Fence remains open during this time, offering no contact services including fence installation and repairs for those in the Minnesota area. Our crew has put new safety precautions in place to keep you and your family safe.
Safe Fence Installation Services in Minnesota
Our fence installation services can be completed entirely outdoors, with little if any face to face contact with our crew. We can speak at length over the phone about your preferences for your new fence and we offer virtual estimates and payment options so that you can complete these transactions with no health risk. Now is a great time to have a fence installed on your property, while we are spending so much more time at home. We specialize in installing a wide variety of residential fences of all different materials, sizes, shapes, and designs. You can choose the best fencing material for your needs including vinyl fencing, wood fencing, aluminum or steel fencing. We can help you find the look that you want at a price that you can afford.
No Contact Minnesota Fence Repair
In addition to fence installation, our team can also complete necessary no contact fence repair services as well. If your current fence is damaged, our fence contractors can complete a repair quickly so that the functionality of the fence is restored. We complete fencing repair jobs large or small and are happy to replace portions of your fence, rather than replacing the whole thing. The harsh Minnesota weather can have a serious impact on a fence over time, so our team offers emergency fence repair as well as scheduled fence repair, depending on how quickly you need our services.
Local Fence Contractors Providing Safe Service
Twin Cities Fence has been completing fence installs and repairs in Minnesota for many years. We have built a reputation as a trusted fence contractor because we put our customers first, communicate clearly and do quality work. None of this changes because of the threat of COVID-19. In fact, this is a time where our team has recommitted to our goals and offers our services in the safest way possible. We complete quotes, estimates and payments virtually and only have physical contact with customers if it is requested. For more information about our no contact fence installation and repair, call us at 612-443-1948.