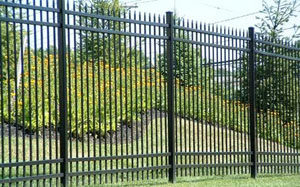 Finding a fence company you can trust can be difficult. When you decide to invest in something, you want to make sure that your money is going to something that is going to last a long time and is done by the best people. At Twin Cities Fence, we are a forth generation fencing company that offers durable, heavy duty ornamental fence that can withstand all of the elements that Minnesota throws at it, no matter what season. We understand that in Minnesota we get a lot of snow in the winter and storms in the summer and therefore it can really ware outdoor structures down. At our company we ensure that all of our material is the best around and all of our work is done at the highest quality. No matter what material works best for you, we have it, Vinyl Fences, Cedar Wood Fences, Chain Link Fences, Steel Ornamental, Aluminum Ornamental, handrails and more.
Fencing Contractor
At Twin Cities Fence we provide all of our customers with the best customer service around. We cherish our customers and without them we wouldn't be in operation, so therefore we make sure that each one of our jobs is done right. Your fence will be made with the highest quality materials, and we can help you with small repairs, to commercial fencing projects, no job is either too small nor too big. We offer free estimates for repair and installation work and promise, 24-hour emergency repair service to home and business owners.
We have many fencing materials to choose from and below we will discuss some options so that you can decide what is best for you!
Wooden Fencing – This is a top choice for homeowners. Wood fences is very appealing and adds great aesthetics to your property. A wood fence can be designed with much detail to suit your need, and can also be used as a privacy fence.
Vinyl Fences– Vinyl Fence is a long lasting, low maintenance fencing product. At Twin Cities Fence we offer a variety of Vinyl fence products which includes: Vinyl privacy fencing, vinyl picket fences, and vinyl post and rail fencing. Vinyl Fence is strong, easy to clean, flexible to prevent snap or break, rust free and very low maintenance.
Chain Link Fencing – Chain link fence is also a popular choice. It is good for so many things including playgrounds, sports fields and is one of the most common choices for your backyard because of its durability and versatility. Chain link fences offer stability by the steel posts that are anchored with cement into the ground.
Steel Ornamental Fencing – Steel ornamental fences are not only visually appealing, but also offer functionality. They are often used to secure boundaries around properties with limited access, such as yards, residential and public pools, hotels, amusement parks, and housing developments.
Aluminum Ornamental Fences – Aluminum is a more affordable material than steel, and still offer the same decorative and function that steel does.
To hear more about our fencing installation and to talk about your specific needs, call us at 612-443-1948.