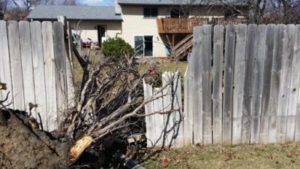 Twin Cities Fence offers high quality fence-repair services whenever you need them. Our team has offered their services for more than four generations and has become an important part of the Minnesota community as a result of our commitment to community values. We have earned the compliments of our clients because of our commitment to high quality service and to our customers, and by being the best fence installation and fence repair company in the Coon Rapids, Blaine, Hugo area.
Residential or Commercial Fence Repair MN
If you are a homeowner or a business owner, you know how important it is to work with contractors you can trust. The Twin Cities Fence staff understands that a fence does more than separate one property from another; a good fence adds value to a property by improving its appearance, and therefore it can contribute to the property's appraisal. Fencing not only serves to denote separation of property, it also adds visual structure to our perceptions of our immediate world. Twin Cities Fence installs new fencing to private homes and public business alike with this in mind. No matter what kind of material you choose for your fence, and no matter who installs it, time and/or the elements ensure that some measure of upkeep or replacement or repair will need to be done to keep it functional and looking its best.
Twin Cities Fence understands this fact and has set many of the industry's standards by offering a 24-hour fence repair service. If that combination of time and the elements has caused your fence to need repairs, Twin Cities Fence will be able to help you immediately, 24 hours a day. The weather in Minnesota can be brutal and fences tend to take a lot of punishment as a result. The cold and snow and ice of the winter months and the occasionally unyielding sun of the warmer months can create a lethal combination for anything that is exposed to those elements. Twin Cities Fence will respond immediately, if that is your wish, to fix whatever problem has arisen with your fence.
Fence Maintenance and Repairs
Long-term or scheduled fence maintenance may also be appealing, especially when time is the cause of the need for repairs. Twin Cities Fence can fix your fence no matter what kind of problem has arisen and no matter who installed your fence originally. The pride you take in your property should extend to the fencing on it, and when you need to contact a repair contractor, look to our team at Twin Cities Fence. Keep your fence doing its job and looking its best. Call Twin Cities Fence at 612-443-1948 to schedule an appointment.