For some commercial property owners, there is a lot of valuable equipment on your property at all times. Whether it is a fleet of vehicles, expensive machinery or possessions of your customers, keeping these objects secure and safe at all times can be tricky. One great way to enhance the protection around your commercial property is to invest in a top of the line commercial fence. Serving a wide range of cities including Blaine, Coon Rapids, Andover, Ham Lake, Lino Lakes, Circle Pines, Stacy & Forest Lake, MN, our team at Twin Cities Fence is a commercial fence installer that you can rely on! Plain and simple, we love fences, and we enjoy seeing our customers get the most out of their commercial fence.
Commercial Fencing Options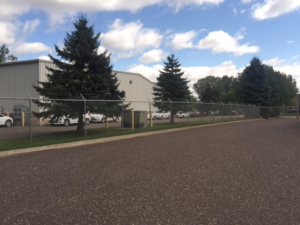 One great thing about partnering with our fencing experts at Twin Cities Fence is that we provide you with a wide range of fencing options. When deciding on the right commercial fence for your property, we'll help you determine which of the following fence systems will fit your needs best:
● Chain Link Fences
While driving around your community, you'll quickly notice how frequently chain linked fences are utilized on commercial properties. Our very popular chain link fences can be coated to your color preferences and can be installed in different height levels, depending on your need. Our chain link fences are made from galvanized steel, virtually maintenance free and most importantly are very affordable.
● Vinyl Fences
If you are looking for a true privacy fence, our vinyl fences may be the way to go. Vinyl fences make it very difficult to climb, which will help keep any potential intruder off of your property.
● Wooden Fences – The great thing about wooden fences is that you can create your fence however you'd like. This type of fence is a great barrier for your commercial property and is great at keeping areas restricted around your business.
● Aluminum & Steel Ornamental Fences
Choosing an aluminum or steel fence for your commercial property offers you a weather resistant option that can hold up well against the varying MN weather.
Commercial Fence Installer Located in Blaine, MN
At Twin Cities Fence, we do not limit you to just one option when it comes to commercial fencing. As a commercial fence installer for the Blaine, Coon Rapids, Andover, Ham Lake, Lino Lakes, Circle Pines, Stacy & Forest Lake, MN communities, we take pride in offering our clients diverse options that they can choose from. To learn more about our commercial fencing options, give us a call today at (612) 443-1948.