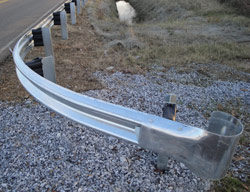 Twin City Fence also installs Guardrails so we can help to prevent stories like this. It's raining out and this poor mom is just trying to make it to her night school class on time. She takes the highway as it provides a faster route to her school. She knows she shouldn't be speeding as she can feel her tires hydroplaning in the precipitation that has been left on the road. As the rain falls and the oils from the highway traffic mix, the roads get slicker. The late mom disregards the warning signs of everything. After all, she has night class to attend. As she approaches a bridge, all of a sudden, her car hydroplanes again and this time she loses control.
If there's one thing we all take for granted in the driving world, it's the safety that guardrails provide in some of the scariest situations. Let's assume there was no guardrail as this mom approached the bridge on a highway. It's hard to swallow that this mom may lose her life as her vehicle tumbles down a hill and into a river. At Twin Cities Fence, we don't ever want to hear of a bad outcome like that. If there is anything that we can do to prevent that situation, we want to do it. So we are also a guardrail installation company. Guardrails are the perfect solution for creating those barriers between areas that are safe to drive or even walk, and areas that are not. Serving Blaine, Coon Rapids, East Bethel, Andover, and Ham Lake, MN, Twin Cities Fence offers both commercial and residential guard rails in these areas.
Guardrails On Your Property?
When you think about it, guardrails are typically only noticed on the highways as you drive by. However, many properties have found use for them to both protect drivers driving by and to protect their own property. If your property is near a frequently trafficked road or path, guardrails are a perfect solution to keep everyone safe, including your property. Commercial businesses will also use guardrails as barriers to keep people in line at drive-thrus or in separating parking lots. All in all, guardrails can be used for a multitude of reasons with the overall message of keeping everyone safe.
Since guardrails are known for being sturdy and saving lives in a dangerous situation, installing guardrails can be difficult and even dangerous. This is why it is best left for professionals in the area. At Twin Cities Fence, we have the proper training and experience to install your guardrails safely and improve the safety of your property. We also offer 24-hour emergency guardrail repair in case of an unfortunate emergency.
In case you were wondering, that poor mom did run into those guardrails. She did a complete 180 on the highway and the side of her car slammed into the guardrail. Once she realized that she was okay, she got out of her car and noticed that there was hardly any damage, just a small mark left by the guardrail that saved her life. For more information about a guardrail installation company in the Blaine, Coon Rapids, East Bethel, Andover, and Ham Lake, MN areas, give Twin Cities Fence a call today at 612-443-1948.