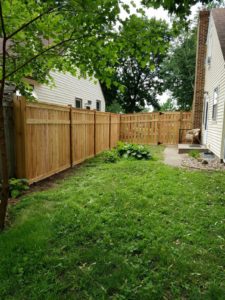 Do you love your neighbors, but are getting a bit tired of seeing everything that they have going on in their backyards? If so, it may be time to invest in a privacy fence for your MN home. There are all different types of privacy fence sizes and styles on the market, and Twin Cities Fence would be happy to come out to your home or commercial building to provide a free quote.
What Are My Options For Privacy Fences?
When most people think of privacy fences they think of wood fences that have been used for decades. While these are still popular, there are a variety of options for those looking to add a bit of privacy to their yard or commercial property.
Vinyl Privacy Fences
If you're looking for an extremely low maintenance option for a privacy fence, vinyl may be the perfect option. Vinyl or PVC fences are able to protect your yard, offer shade on sunny days and even reduce the noise that may be coming from some of your neighbors. In addition, a vinyl privacy fence will never require painting, which should be good news for those who have spent all too many sunny Minnesota days painting or staining fence posts.
Privacy Wood Fences
Wood fences are likely still the most popular type of fence installed by the team at Twin Cities Fence. Wood fences are extremely, strong, versatile and offer a high level of privacy. Wood fences allow you to clearly define your yard, protect your children and pets and potentially protect your property from intruders. With a wood privacy fence, you have a wide array of options when it comes to design including solid board fencing, lattice wood fencing and many other options.
Chain Link Fences with Privacy Screens
Most people do not think about chain link fences when they're looking for a privacy fence option for their home or commercial setting. However, if you're looking for an economical privacy fence option, we can install a chain link fence and then use decorative polyethylene slats to add an additional layer of protection to your property. It's important to note that if you're looking to cut down on noise, a chain link fence with privacy screen is likely not your best option.
Reach Out to Twin Cities Fence Today for Answers
We hope this blog helped to narrow down your choices when it comes to a privacy fence. At Twin Cities Fence, we've been privacy fence contractors in Minnesota for decades and would be happy to assist you with any type of fence selection. Give our office a call today at 612-443-1948 and we'll be happy to setup an appointment with one of our project managers.