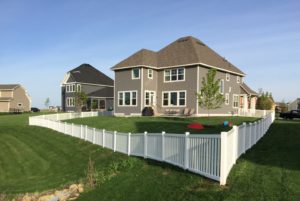 Fences may not be a topic of conversation that gets your blood flowing, but for our team at Twin Cities Fence, it is our passion. We have to be careful sometimes, because we could talk our customers' ears off about fencing, simply because it is our passion. We feel that investing in a fence for your residential or commercial property can provide you with a wide range of benefits that you may not even realize. If you own property in the Forest Lake, East Bethal, Bethal or Pine City, MN areas, our expert fencing staff would love to talk with you about your fencing needs.
The Perks of a Fence
You just don't know how great having a fence can be until you have one of your own. At Twin Cities Fence, we do our best to make it possible for you to invest in a reliable fence that is also affordable. By investing in a fence, you'll immediately gain the following benefits:
● Privacy – Sometimes a little privacy is all that is needed within a neighborhood. Rather than getting up and moving your family to a new neighborhood, consider investing in a fence that will give your family the privacy that you desire.
● Protection – For both commercial and residential properties, a fence can provide added protection that will help keep any potential intruders away. Dealing with a fence for an intruder could delay their plans and cause them to bypass invading your commercial or residential property.
● Curb Appeal – The white picket fence option is just one way to enhance the look of your home. A beautifully constructed fence from Twin Cities Fence can quickly boost the curb appeal of your property.
● Resale Value – If you ever decide to sell your property, having a fence is a great selling point and often times will boost the value of your home or commercial property.
● Pets – Are you sick of putting your pet on a leash every time they need to use the restroom? Consider investing in a fence that will give your pets the freedom and boundaries that they've been missing.
Affordable Fencing Options
At Twin Cities Fence, we offer very diverse fencing options for you to choose from. A sample of the fencing styles that are affordable and popular with our customers include:
● Vinyl Fences
● Cedar Wood Fences
● Chain Link Fences
● Steel Ornamental
● Aluminum Ornamental
● Privacy Fences
● Gate Systems
● Many More!
Our team at Twin Cities Fence is eager to share our passion for fencing with you. If you are in the market for affordable fencing around Forest Lake, East Bethal, Bethal & Pine City, MN, give us a call today at (612) 443-1948.