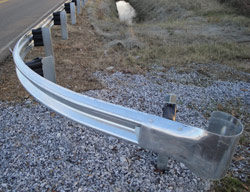 Looking to add guardrail or handrails to your existing property? Well, this is definitely not a home improvement that you want to try and complete yourself. In fact, guardrail & handrail installation is something that takes a lot of experience and attention to detail. That's exactly what our team at Twin Cities Fence brings to the table. Specializing in guardrail & handrail installation in the Twin Cities, MN, all that you need to do is pick up the phone to reach out to our fencing experts at Twin Cities Fence, and we'll handle the rest!
Benefits of Guardrails & Handrails
Guardrails and handrails are more than just an accent feature for your property, they are very useful as well. We all know that guardrails are a great addition to your property that will help keep unwanted intruders off of your property. Handrails serve as a great addition for guests and visitors as they come up stairs or difficult terrain around your property. These aren't the only benefits of guardrails and handrails. This type of investment also helps bring an elegance to your property that you've been missing. This addition will quickly increase the curb appeal of your property and it will also add to the value of your home as well. Your unique guardrails or handrails installed by our staff at Twin Cities Fence will surely be a great selling point if you ever decide to put your property on the market in the future.
Expert Guardrail & Handrail Installation
Guardrails and handrails are often made of wrought iron, which is not an easy metal to work with, especially if you lack experience. The good news for you is that our guardrail & handrail installation team has been providing fencing, guardrail and handrail installations for four generations. Finding a trusted and experienced guardrail and handrail installation team that can handle your project can be difficult. Don't pick an installation team that cuts corners with their processes. Instead, team up with our expert guardrail & handrail installation crew that will get your project done right the first time around. We'll not only help you with the installation aspect of your project so that your guardrail or handrail is installed to perfection, but we'll also help with the guardrail & handrail maintenance process in the future as well.
When it comes to guardrail & handrail installation in the Twin Cities, MN, there's only one team that you should work with. Pick up the phone and call Twin Cities Fence today at (612) 443-1948 to learn more about our expert guardrail & handrail installation services.