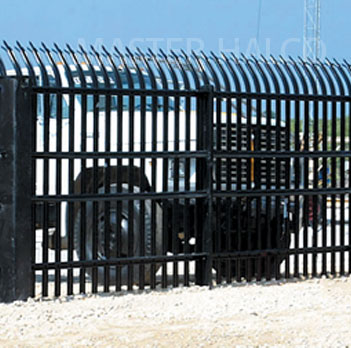 Your home or your business is one of your biggest investments and keeping it safe is likely an important priority for you. Installing a security fence on your property can go a long way when it comes to adding safety and security to your property and giving you much needed peace of mind. Twin Cities Fence specializes in security fence installation in the Twin Cities, MN area. We can help determine what type of fencing is best for your property, your budget and your needs. We offer a wide variety of options for a security fence including:
Privacy Fences:  Privacy fences are a popular and highly effective option for a security fence. Twin Cities Fence can install a traditional wood privacy fence, which creates a natural boundary between property, encloses your property so that pets and kids can play freely, and keeps noise in (or out). We also install vinyl privacy fences as well as chain link fences with privacy screens, the most economical option. Typically, privacy fences are tall and very difficult to climb, so you can be confident that it will add security as well as aesthetic appeal.
Gates: Our crew can also install a security gate for your existing or new security fence so that you can lock it when necessary and open and close it at your convenience. A security gate can open and close with a passcode or it can be controlled by a security officer.  Gates are particularly effective for added security for businesses.
Bumper Guards: Twin Cities Fence can also install bumper guards for commercial properties in the Twin Cities area. Bumper guards serve as protection for the sides of surfaces that can be damaged from traffic and other impact. Bumper guards are ideal for loading docks, commercial parking lots and other high traffic industrial sites.  Bumper guards come in many shapes and sizes and can be installed by our team anywhere you need them.
Experienced Security Fence Installation Contractors in Twin Cities, MN
Twin Cities Fence has been installing and maintaining security fences in the Twin Cities area for more than four generations. We offer professional grade fence installation and excellent customer service. If you are ready to add a security fence to your home or business, you can trust the team of contractors at Twin Cities Fence to install your fence correctly so that it will stand the test of time.  For more information about our security fence installation options, call us at 612-443-1948.