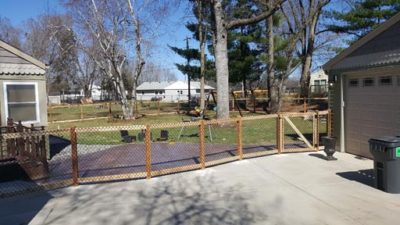 Is your fence gate broken? Does it work but have some sort of flaw? At Twin Cities Fence, we handle every type of fence gate repair you can imagine. Gates are used for a variety of reasons. Some people install gates to add a level of security to their home or commercial property, while others like the aesthetic appeal of a nice gate. No matter what your reasoning may be, if your gate isn't working, it's a problem. No matter if your gate was installed by us or another company, Twin Cities Fence can help you get it in working order again.
Fence Gate Repair
Push gates are a common gate used on residential properties. These gates can be both manual and automatic depending on the material. The point of this gate is that it swings and opens away from the property instead of into it. Push gates can come in simple designs or have more complex, technological factors. Either way, our team of fence gate repair experts at Twin Cities Fence can fix your push gate. We have the right tools, equipment, technology and experience to diagnose the problem and have your push gate swinging again in no time.
Automatic Gates
There is something fancy about an automatic gate. Whether it's used in a commercial setting or as a residential grand entrance, an automatic gate sets the tone for the property. Likewise, a broken automatic gate can put you in a pretty bad mood very quickly. No one wants to have a broken automatic gate! At Twin Cities Fence, our experts offer 24-hour emergency fence gate repair services for all of your automatic gate needs. Whether your gate was damaged in a storm and won't let you in or out or if it all of a sudden stopped working, our team of professionals will come out to your property and resolve the issue as quickly as possible.
Gate Operators
As a premier fencing company in the area, we are up to date on all the latest technology, including gate operators. We have experience in slide and swing gate operators and have worked on dozens of different gate operator brands. If you are experiencing a problem, we can handle anything from the mechanics of the gate to the control panel that dictates the entire system.
If you are looking for experienced fence gate repair professionals, look no further than Twin Cities Fence. For more information about gate repair and our 24-hour emergency service, give us a call today at (612) 443-1948.