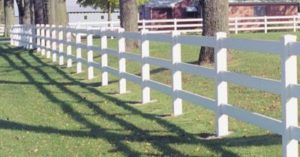 At Twin Cities Fence, we believe there is something rustic and pretty beautiful about wooden posts and rail fence systems. When you think of a wooden post fence system, often times the first thing that comes to mind is farmland. Wood posts with rail fences are perfect for keeping livestock enclosed. These fences can enclose sheep, goats, cows, etc., and still allow them to roam free. Even horse ranches use wood posts and rail fence systems to keep their horses secure and safe. If you are looking for a rustic and beautiful, country farm feel, this is the perfect fence system. At Twin Cities Fence, we want to ensure that when it comes to installing your wood posts, everything is stable and sturdy for many years to come.
Rot Free Wood Post Installation With a Guarantee
If you are indeed using wood posts and a rail fence system to enclose your farmland and keep your livestock from getting out, it's important that your fence system doesn't fail you. These fences are ideal because you can easily see through the fence, over the fence, and under the fence, all while keeping your animals contained. However, if your wood post rots or becomes damaged, then inevitably you will have a breach in your fence system which can create lots of problems down the road. That is why, at Twin Cities Fence, we install rot free wood posts. Never worry about rotting again!
Rot Free Wood Posts Guaranteed
So how do we get a wood that doesn't rot? This is a question that so many of us have been searching to find an answer to. Worrying about wood rot is a major concern when it comes to using any type of wood fence system. That is why Twin Cities Fence offers a higher quality wood fence system that is made to last. We also install all of our wood posts in a special way that prevents the wood from rotting. This is done by keeping wood-to-ground contact minimal. All of these factors combined help to create a fence system that is viable, strong and dependable.
Interested in having rot free wood posts? For more information about rot free wood posts and the many great benefits of wood posts and rail fencing systems, give Twin Cities Fence a call today at 612-443-1948. We offer free estimates and year round fencing installation and repair! We look forward to helping your life be just a little less rotten going forward!