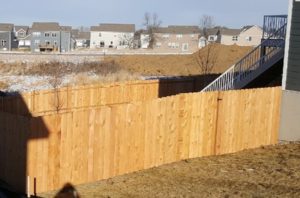 At Twin Cities Fence, we are always trying to separate ourselves from the competition. With so many fencing contractors for you to choose from, offering unique fence features sets us apart from the rest. We are excited to share that we offer concrete free fence installation. This is an option that many of our clients are thrilled about because we no longer have to dig your yard up.
Simple & Clean Wood Fence Installation
Before you know it, your new fence will be installed and your yard will look just as good as it did before we started your fence installation project. For many fence owners, a common complaint is that contractors have to dig up the yard in order to install the fence. Well, by choosing to let Twin Cities Fence handle your fence installation, you no longer have to worry about this. Our concrete free installations make sure that the mess we create is as small as possible. And the install can be done the same day.
Fence Installation Contractor That Doesn't Tear Up The Yard
Since our company is able to provide you with concrete free fence installation, you can create the perfect yard that you've always dreamed of. Whether your new fence is used to surround a pool, separate your house from a neighbor, store expensive equipment, etc., you will not have to worry about rebuilding your yard once the fence is installed. Instead, the yard you've always dreamed of will be yours just as soon as we complete your concrete free fence installation.
Concrete Free Fence Installation
Whether you are in search of residential or commercial concrete free fencing installations, our team at Twin Cities Fence has you covered. We've been in the fencing field for four generations and we have no plans of leaving anytime soon. So, put your trust in our staff to handle your concrete free installation. The attention to detail, quality materials and unique features like our unique fence installation process are what sets us apart from the other fencing contractors. Customers have always been and will continue to be our number one priority. We're not satisfied until you are our customer!
Unique Fence Feature Saves Time, Money And Yard Repairs
So, if you've been looking into investing in a fence in your yard, but have been hesitant because you don't want it to alter the beauty of your existing landscape,our team at Twin Cities Fence has the perfect solution. We offer a concrete free fence installation option where we don't have to dig up your yard at all. In turn, you're able to get the fence you desire, while keeping the look of your beautiful yard. To learn more about our concrete free installation option, give us a call today at (612) 443-1948.