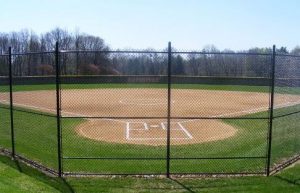 Have you had the dreams of a baseball field in your mind for years or even decades? Have you now come around to finalizing your plans? If so, have you thought about the very important detail of the process, which is the baseball field fence? If you are in the Minnesota area, our team at Twin Cities Fence is proud to be an experienced baseball field fence contractor in Minnesota. Whether you are starting your baseball field planning from scratch or you are revitalizing an existing field, we've got the fencing aspect of your project handled with care and precision.
While most baseball fields utilize a chain link fence, it's not the only option for our clients. We are proud to offer our clients a wide variety of baseball field fencing opportunities to ensure that we meet your needs. Some of the decisions may be based on your budget, and we've got fencing options for all budgets. Some of the fencing materials that we can use for your indoor or outdoor baseball field include the following:
Endless Baseball Field Fencing Opportunities
● Wooden Fencing – Some of our clients utilize wooden fencing for their baseball fields and often combine a split rail wood fence and privacy wooden fence.
● Vinyl Fencing – If you are looking for a baseball field that requires minimal maintenance, this is the option for you. A vinyl post and rail fence may be just the option for you.
● Chain Link Fencing – If you've spent any time on a baseball field, you know that a chain link fence is the most common baseball field fence option. We are proud to offer chain link fencing in a variety of colors.
● Aluminum Fencing – Looking to create a modern feel for your baseball field? Consider an ornamental aluminum fence for your baseball field.
● Much More!
Free Baseball Field Fencing Estimate
Our fourth generation fencing experts understand that this is a big investment for your property. That is why we offer our clients a free baseball field fencing estimate so that you can get a true understanding of the financial costs around this project. Through this estimate you will be able to decide on the right fencing materials for your project.
If you are building a baseball field from the very beginning or you are looking to enhance the fence on an existing baseball field, our team at Twin Cities Fence can handle this job with ease. To request a free estimate, contact our fencing experts in Minnesota at (612) 443-1948.