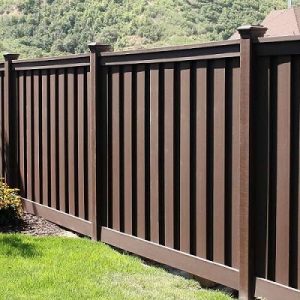 If you have been considering a new fence for your property, you may be trying to decide what material is best for your needs. One type of fencing material that you may not have considered is Trex fencing. Trex fencing is becoming a more popular choice for many residential customers for many reasons. Below are a few of the many benefits Trex fencing offers:
1. Long lasting: You can expect a Trex fence to last approximately 25 years. This is longer than many other types of fencing that can more easily get damaged in the harsh elements of Minnesota. The Trex quality guarantee means that you can be confident that your new fence will stand the test of time.
2. Durable: One of the reasons that we can stand behind our Trex fencing is because it is more durable than other fencing materials. It is an alternative to wood and vinyl fence material and is made of recycled products. You can even choose your style and color and our staff can make your fence fit your property size, shape and style.
3. Low maintenance fencing option: Trex fencing rarely requires any maintenance or repair during its life. You will not have to sand, stain or paint it, all you will need to do is periodically power wash your fence to keep it looking clean. It is that easy!
4. Custom color: You can also choose the fence color that you like best and that you think will look best on your property and never have to repaint it. Saddle, winchester gray, and woodland brown are three of the most popular color choices for Trex fencing.
5. Weather-proof: There is no doubt that the weather in Minnesota can be brutal with cold, snowy winters and rainy, windy summers. Over time, the weather can damage a wood or vinyl fence, requiring maintenance and sometimes expensive fence repair. This is not something that you have to worry about with Trex fencing. Trex fencing is not susceptible to insects, rotting or warping.
Professional Trex Fencing Installation
If you are interested in learning more about Trex fencing for your commercial or residential property in Minnesota, call our team at Twin Cities Fence at 612-443-1948. We offer free estimates, and our friendly and knowledgeable staff is always happy to answer your questions. We can help you determine if Trex fencing is the best option for your property and your budget.