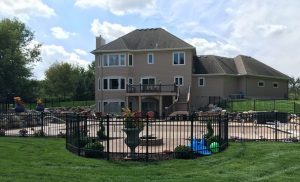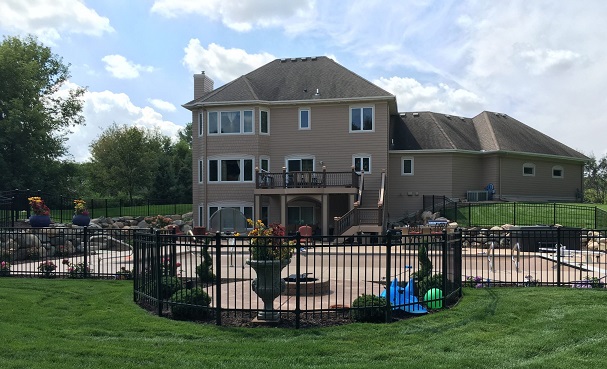 Looking for the classic and timeless look of an iron fence in Minneapolis, MN? At Twin Cities Fence, we have something even better. While wrought iron gates and fences used to be a big thing for many beautiful properties, owners quickly found problems. Number one problem being its lack of durability and weather-resistance. At Twin Cities Fence, we are here to offer you something so much better than an iron fence that will rust out. Our customized ornamental steel fences are not only more durable, they are weather-resistant and will not rust or corrode. If you are searching for a customized ornamental steel fence installer in Minneapolis, MN, look no further than your friendly professionals here at Twin Cities Fence.
Benefits of our Galvanized Ornamental Steel Fence
At Twin Cities Fence, we will always use quality materials to build a fence. We want to assure all of our customers that their fence will last for many years to come. So, when we chose to use galvanized steel for both residential and commercial steel fencing systems, we chose it with you in mind. Minneapolis, MN is no stranger to harsh weather. When you install a fence, you need to make sure it can withhold everything that mother nature has in store. Our galvanized steel fences are coated with multiple layers to prevent any rusting and keep the integrity of the fence lasting for many, many years. There is little to no maintenance on our ornamental steel fences, and both residential and commercial properties frequently choose this style as it is both durable and aesthetically pleasing.
Customizing Your Ornamental Steel Fence
While many choose this fence for its obvious durability, let's not forget the beauty it brings to your property. At Twin Cities Fence, many of our customers enjoy the benefit of customizing their ornamental steel fence. Add a unique design element or keep things simple and traditional. We offer ornamental steel fences with or without top rails, we offer spear tops, staggered spear tops, finials, rings, etc. Whatever fencing design you have in mind, let us bring it to life!
Don't wait to get that beautiful fence you've always wanted. If you are ready to connect with a quality ornamental steel fence installer in Minneapolis, MN, give us a call today. Call Twin Cities Fence today at (612) 443-1948 and let us fulfill all of your fencing needs.