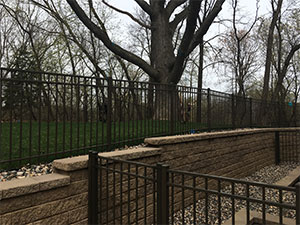 If you are a residential or commercial property owner in Wayzata, MN looking for a sturdy, durable, maintenance free fence, there's no better option than an aluminum ornamental fence. To top things off, by choosing to partner with Twin Cities Fence, you'll be able to invest in a custom aluminum ornamental fence that fits your every need. Whether your aluminum ornamental fencing needs are indoor or outdoor, we've got you covered.
At Twin Cities Fence, we have a lot of customers that still love the look of a wrought iron fence. This type of fencing, however, is rarely used nowadays because of the many disadvantages of using a fence made out of iron. At Twin Cities Fence, our aluminum ornamental fence is able to achieve that same look as a wrought iron fence, but it is more durable and long lasting. The joys of choosing an aluminum ornamental fence are that they are very affordable, built to last, protective against the tough weather in Wayzata, MN and are maintenance free! These attributes have helped a custom aluminum ornamental fence become the perfect fencing option for both our residential and commercial clients.
Custom Aluminum Ornamental Fencing
There are plenty of fencing contractors around Wayzata, but none that offer the level of customization as our 4th generation fence builders at Twin Cities Fence have to offer. We're here with open ears ready to incorporate your ideas and concepts into your custom aluminum ornamental fence. Whether you are in need of a custom ornamental fence along the outside of your property to keep your children and pets safe or you own a commercial property and need a custom aluminum ornamental fence inside your warehouse to create separation, our dedicated fencing team has you covered. Since your fence is customizable, it is available in a wide range of designs and styles. It can be simple or decorative. Whatever it is that you're looking for, Twin Cities Fence can get it done!
So, if you are in the market for a custom aluminum ornamental fence that is available for both your indoor and outdoor needs, Twin Cities Fence is the right team to handle the job. Serving Wayzata, MN, give us a call today at (612) 443-1948 to schedule your free custom aluminum ornamental fencing estimate. We're eager to incorporate your ideas into the custom fence that you've always imagined you would have.