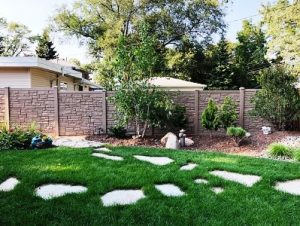 At a time in our history when we have no choice but to spend more time in and around our homes, many people are discovering that it is a good time to upgrade the fencing around their property. Twin Cities Fence is proud to serve the residents of Minnesota, making their homes not only more aesthetically appealing, but also more secure. Residential fencing is one of our specialties, and we offer a wide range of styles and materials to help you achieve the specific goals for your property.
Regardless of the kind of fencing you choose, or the reasons for making your choice, you can trust that your fencing will be installed professionally and reliably by our team at Twin Cities Fence. We will apply our high standards to every post-hole we dig and every connection we make connecting one fencing component to another. You will be able to trust that your new fence will add visual appeal to your home and also stand up to Minnesota storms, strong winds, and day-to-day use.
Choosing Your MN Fence
Our fence installation contractors have extensive experience working with our clients to help them determine the ideal material, style, and color of their new fencing. You, of course, make the final decision, but we also want you to know that we are available to lend our experience so that you can make the most informed choice possible for your property. We believe that a good starting point for any new fencing choice is the knowledge that—whatever the choice of style, material, and color—it will be installed properly the first time. With that in mind, here is a bit more information about the choices available to you:
Fence Materials: All of the materials we offer have unique advantages. Vinyl fencing is an excellent choice for privacy and also provides years of durability. Cedar wood fencing also provides great durability but is also a good choice if you want to make your fencing more individually customized. If the combination of strength and durability is what you are looking for, galvanized chain link fencing may be a better option. Steel ornamental fencing is known for being both decorative and durable.
Fencing Style: Vinyl fencing comes in a variety of colors to match your preferred palette. Cedar wood's natural state is a style statement of its own, but it can also be painted or stained to suit your needs. Most of our fencing, in fact, can be painted to match your color preferences.
Whether you want your fencing to accent your home or add more security to it, we can help you. Call Twin Cities Fence at 612-443-1948 for a free estimate.