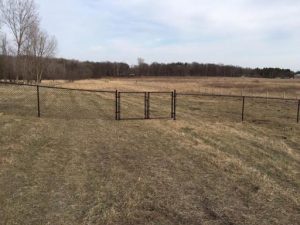 Thinking about a chain link fence on your Isanti, MN property? At Twin Cities Fence, we have got you covered. We are a chain link fencing company serving the Isanti, MN community with quality products and quality installation. For all of your chain link fencing needs, Twin Cities Fence has got you covered.
In Isanti, MN, installing any type of fence takes some thought. While different property owners may have different functional needs, there is one function that remains a fencing priority and that is a fence's ability to withstand the Minnesota environment. Minnesota is known for our blazing snow and ice storms and our incredibly humid summers. Fortunately, chain link fences are remarkably strong and durable enough to weather the storms. For this reason, chain link fences are widely popular in the Isanti, MN area. Additionally, they define property lines, add protection to your space and is the most cost-effective solution for many of our customers. Reliability, affordable and long-lasting – this is what you get when you choose a chain link fencing system from Twin Cities Fence.
Perks of Chain Link Fences
While plenty of property owners go with your standard galvanized steel chain link fence, many property owners also decide to add a layer of protection and pizzazz. We offer color-coated chain link fences that are typically black, green, or brown. This color coat is made up of PVC protection, allowing added protection and many years of a beautiful, functional fence.
Chain Link Fencing Company in Isanti, MN
In this day in age, we are considered an essential business and have been able to remain open for our Isanti, MN community. For over four generations, our team of professionals has been able to serve our customers when they need it most. To follow all guidelines and keep our community safe, we offer all of our refined services in a virtual format. This means you can receive quotes, talk with our professionals whenever you have questions and stay safe while we finish all of your chain link fencing needs from a distance.
Ready to learn more about our chain link fencing company in Isanti, MN? For all of your chain link fencing questions or to get a free quote about your next project, give us a call today. Call Twin Cities Fence today at 612-443-1948 or feel free to send us an email at contact@tcfmn.com.