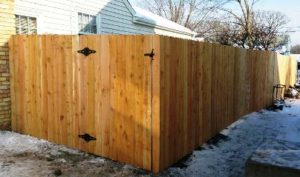 At Twin Cities Fence, our fencing projects never stop. The question we often get from potential clients is whether or not privacy fences can be installed in the winter in Minnesota. Some fencing contractors may say no, but at Twin Cities Fence, our answer to this question is a resounding yes! We take pride in offering the Minnesota community year round privacy fencing installation services. Infact, winter or summer, most of our privacy fence installations only take 1 day!
Customer Focused Fencing Team
Our customers are our number one priority. That's what has helped us continue to thrive as a fourth generation fencing company. To ensure that we are continuously meeting the needs of our customers, we felt that offering privacy fence installation in the winter was absolutely necessary. At Twin Cities Fence, there is no off season when it comes to our privacy fence installation. Cold temperatures and winter weather will not hold us back from getting your privacy fence installed in a timely manner.
Free Estimate on Winter Installation
Over the years we have learned that it is best for our clients to be totally comfortable with the privacy fencing project before any of the work officially begins. We're able to achieve this by offering a free estimate on their privacy fence installation this winter. We'll sit down with you to understand the look you are trying to achieve and then we will provide you with a detailed privacy fence estimate that lays out all of the financial aspects of the project. If you are not comfortable with the pricing, there's no obligation to move forward with your fencing installation. We are confident, however, that you'll find our privacy fence installation prices to be extremely competitive.
Don't Delay your Privacy Fence Installation
There's no reason to delay your privacy fence installation just because the winter months are approaching. At Twin Cities Fence, we are equipped and ready to install your privacy fence in the winter in Minnesota. We've been dealing with these cold temperatures for four generations, so why should we stop now?
When it comes to privacy fence installation, there is no offseason for our installation crew at Twin Cities Fence. Even during the winter in Minnesota, we'll send our privacy fence installation team out to your property so that we can get your privacy fence installed quickly. Rather than delay this home improvement project any longer, reach out to Twin Cities Fence today to request your free privacy fence estimate. Give us a call today at (612) 443-1948 to learn more about our year round privacy fencing installation services.