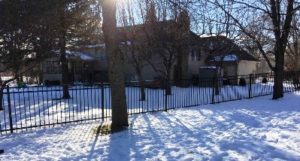 Whatever your reasons for wanting to install an ornamental metal fence on your property, you will most likely be glad that you did. Its important to not hire just anybody to construct and install your fencing. Twin Cities Fence has the experience and professionalism that is required to make sure that you get exactly what you pay for and are beyond pleased with the results. As an ornamental fence contractor with numerous options in design aesthetics including styles, colors, materials and design enhancements, the team at Twin Cities Fence delivers on choices, value and security. Take a look at our selection of steel and aluminum ornamental fencing with options like finials, rings, scrolls, rails and arching pickets.
Aluminum Ornamental Fence Applications
One of the many benefits that come from choosing an aluminum ornamental fence is the way in which it can handle harsh environments. We all know how difficult Minnesota weather can be on our automobiles, highways and homes. Aluminum fencing is very durable, is maintenance free and environmentally friendly due to the recycled and recyclable content used to make such a long lasting fence material.
In both residential and commercial applications, aluminum ornamental fences can easily be used to guard a perimeter around a property, enclose a pool area, protect a pet or child play area, distinguish landscaping and much, much more.
Steel Ornamental Fence Installation
Steel fences are a great option for commercial, industrial and residential applications. If you want the look of a wrought iron fence without worrying about rust and corrosion, then installation of ornamental steel fencing may be just what you are looking for. Made with powder coated galvanized steel that handles Minnesota weather without premature rusting, warping or creaking, steel fencing systems add value, style and security with very little maintenance.
Ornamental Fencing Design Options
Go ahead and show off your own unique style by choosing ornamental fencing design options that enhance attractiveness to either aluminum or steel fences.
• Color Choices
• Rails, Scrolls, Rings Between Pickets
• Finial Post Caps
• Gates
• Twisted Pickets
• Varying Heights of Pickets in Arching or Swooping Pattern
Safety and Security Modifications
There is little doubt that with the addition of a metal fencing around a property that it adds a sense of safety and security. The added comfort of being able to design a strong and sturdy fencing option that can be enhanced with added security features is definitely a bonus for many residential, commercial and industrial property owners.
Modifications that can be added to a decorative metal fence can include features like stronger pickets, taller pickets, unobtrusive mesh, gates with locks, keypads or a panic bar added to the interior side of the fence. These features can increase security without obstructing the view.
Fourth Generation Fence MN Contractor
Why waste your time, money or energy installing a fence that will not last when you have a fourth generation fence contractor nearby? Twin Cities Fence offers a wide variety of customized options in ornamental fencing products. Our fence installers work all year round providing reliable residential and commercial fence installation work. With the many options available, our customers can choose the style, color, design elements and material that will best enhance and secure each property for generations.
Contact Twin Cities Fence at (612) 443-1948 or Email: contact@tcfmn.com