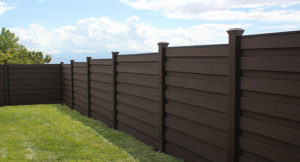 Trex fencing products have gained in popularity over the years because a Trex fence provides many benefits that other fencing materials simply cannot. Not only is it beautiful and nearly maintenance free, Trex fencing is built to last without repairs, painting, sanding or staining every few years like other types of fences require. The many attractive colors available in composite fencing can mimic the look of a wood or vinyl fence with color that goes all the way through the recycled material. As a certified Trex fencing contractor,Twin Cities Fence offers installation of this very durable fence at an affordable price.
Trex Composite Fencing Material
Known as a great alternative to either wood or vinyl fences, you might be wondering what Trex fencing is made of. Tres composite fencing materials are engineered out of a durable, weather resistant combination of wood fibers, plastic and recycled board. In fact, the inclusion of 95% recycled board makes Trex fencing products very environmentally friendly. For eco conscious residential property owners and businesses that want to go green, this wood and vinyl alternative fencing option makes incredible sense.
Benefits of Installing Trex Fencing System
To help you to more easily decide on the best type of fence to have installed on your property, Twin Cities Fence would like to share some of the many attractive benefits of Trex fencing system installation.
Color Options that weather beautifully include:

A rich, dark Woodland Brown that adds contrast
Natural looking earth tones in Saddle mimic wood fencing
Modern looking Winchester Grey that pairs wonderfully with white accents and compliments masonry nicely

Durable under harsh weather conditions including strong winds, snow, ice, cold temperatures, high humidity and heavy rain. Your high-performance Trex composite fence will not splinter, rot, warp, chip or peel.
Privacy is enhanced due to the interlocking fence pickets that leave no gaps between sections.
Low Cost of Ownership when you factor in the average cost to maintain and repair a wood or vinyl fence over the course of ten years.
Eco Friendly Recycled Materials and Manufacturing Process that uses reclaimed sawdust and recycles up to 140,000 plastic bags per 100 linear foot of Trex high performance composite fencing system.
Very Low Maintenance with no painting, no staining, no sanding, to parasites, no rusting, no wasted weekends repairing a fence. Simply hose off the fence if it becomes dirty and go back to enjoying the privacy, security and beauty of your Trex fence.
Industry Leading Warranty for 25 years in residential applications and for 10 years on commercial properties.
Trex Fencing Pro Certified Contractor
Now that you are sold on the many attractive benefits that come with a new Trex fencing system its time to find a contractor that can provide professional installation. Twin Cities Fence is proud to be certified as a Trex Fencing Pro Contractor. Our fence installers understand the ways in which a Trex high performance, composite fence can enhance, protect and improve your property for decades with very little maintenance time or costs.
Contact Twin Cities Fence at (612) 443-1948