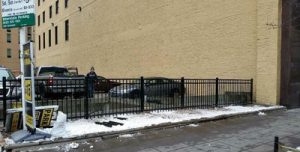 The Minnesota weather is known for its extremes. As we head into the winter months, the temperatures drop significantly, and frozen precipitation is in our future. We must prepare the exterior of our homes for what is to come. If you have a fence on your property, you must also think about the stability and functionality of the fence that defines and protects your property. Your fence – just like the exterior of your home – is subject to the extremes of the Minnesota weather all year round. The contractors at Twin Cities Fence understand the Minnesota weather, and we work to provide our trusted fence repair services when you need them–12 months a year.
Minnesota Fence Repair Company
Wind, rain, snow, ice and even the sun can damage your fence over time. You may not notice it right away, but the fencing materials can break down and compromise the safety and security of your fence. When this happens, it is important to be able to fix it quickly, so that your kids (and pets) do not find their way outside of your yard and so the damage does not get worse. Our crew can make necessary repairs to your fence quickly and at an affordable price. We are open and offering full-service repairs and installs for our amazing customers. We are working to provide these services safely with no physical paperwork and no in-person meetings. We can get the information that we need from you over the phone and make arrangements to complete the repair at a time that works for you.
24/7 Emergency Fence Repair
We complete large scale repairs as well as minor repairs, depending on your needs. In most cases, only a portion of your fence will need to be repaired at one time. We focus on making the repairs that you need, no more, no less. We are happy to complete section repairs and will not push you to repair parts of the fence that are still working and strong. That is not the way we do business. We service wood fences, vinyl fences, and steel and aluminum ornamental fences and can be available 24 hours a day, 7 days a week, 52 weeks a year. We will make your fence look as good as new without breaking the bank.
For more information about our year round fence repair services, call us today at 612-443-1948.