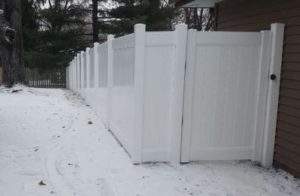 Do it yourself MN Fence projects are really popular right now as we are all hunkered down at home trying to keep ourselves busy as we try to slow the spread of COVID-19. Many home improvement projects can be done just as easily (or almost as easily!) by a handy homeowner, without hiring a professional. Fencing installation is generally NOT one of those jobs. Fencing installation is best completed by a licensed fence contractor. Installing a fence takes an extraordinary amount of time, especially if you have not done it before and may not end up saving you as much as you think. Here are some benefits of hiring a professional fencing contractor for your fencing project:
A fence installation company can manage any unexpected difficulties with your property including rocky soil, unexpected wiring, and the need to level parts of the property.
Building and installing your own fence can be a much larger project than you might think. It can take many (many) hours and also requires some physical strength. You can save yourself a significant amount of time and effort if you work with a fence installation company.
You can choose from a wide variety of fencing materials when you work with a professional. In addition, you can get specific advice about what material will work best for your specific needs.
A professional will avoid mistakes that can add up and result in damage, defects and the need for costly repairs down the road. If you are concerned about security and/or making sure that your children and pets are safely enclosed, a professional can also add additional security features to keep your family safe.
Using a professional can help you enhance the curb appeal of your home and increase the overall resale value of your home.
Finally, a fence contractor can make unique adjustments to a fence to complement your property. This is much more difficult to do as a novice.
Experienced Fencing Contractor in Minnesota
Twin Cities Fence has been installing residential fences for clients in Minnesota for more than forty years. We are considered an essential business and open right now for professional installations. Our team can help you decide the right material for your fence and offer many different options including aluminum, steel, vinyl and wood. We can help you make a good choice for both your needs and your budget. We also complete installations all year round so call us when you are ready to learn more at 612-443-1948.