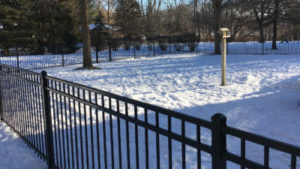 Minnesota is home to many different types of weather conditions. Bitter cold winters and hot and stormy summers. The team at Twin Cities Fence specializes in residential and commercial fence installation and repair, and we are committed to providing our services 12 months a year – rain, snow, sleet or hail! Our team can install a fence on your property literally any month of the year.
Fence Installation Services MN
As an essential business in Minnesota, we have stayed open throughout the COVID-19 pandemic and have added additional safety precautions to ensure the safety of our crew and our clients. We can install all types of fences – including vinyl fences, wood fences, aluminum fences, chain link fences, steel fencing, farm and ranch fences as well as guardrails and gates. We can help you determine the best fencing material for your property, once we learn about your budget and your goals for the functionality of the fence. Our fencing contractors have many years of experience with installations in Minnesota both for residential customers and commercial clients. Our staff is professional, courteous, and will communicate clearly about timelines and cost estimates so that you are not surprised.
Year-Round Fence Repair Services
In addition to year-round fence installations, our team can also complete repairs on an existing fence throughout the year. The Minnesota weather can wear down any fencing material over time. Our experienced contractors can repair a small (or large) part of an existing fence, match the color and material so that you do not even notice a difference. Fence repairs may need to be done on the evenings or weekends, outside of normal business hours. We will respond to your need quickly so that you are not left with a compromised or damaged fence for an extended period of time.
Trusted Minnesota Fencing Company
Our team understands the impact of the Minnesota weather on local fencing. Our contractors have the experience and tools to complete installations and repairs in a way that will ensure that the fence will last for many years to come. Whether you are a homeowner looking for privacy or a way to corral your children and pets or a business owner who is looking for an added level of security, our team can help you find the perfect fence for your needs. For more information and to speak with a member of our team, call us at 612-443-1948