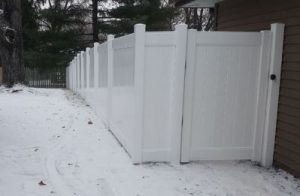 There are many benefits of installing a vinyl fence on your property in Minnesota. Vinyl fencing is extremely durable, will stay in good condition for many years to come and is virtually maintenance free. The Minnesota weather can wear a fence down over time, so considering vinyl may be a great choice to combat the harsh extremes we face each season. Twin Cities Fence can help you decide if a vinyl fence is the best choice for you by taking a look at your property and talking to you about your unique needs for a fence.
Benefits of Choosing a Vinyl Fence
You may be wanting to add a layer of security to your property, or perhaps want additional privacy or to give your children and/or pets a safe place to play. Your vinyl fence can be all of this and more. A vinyl fence can take many different looks depending on your style and preference. One very popular choice right now is vinyl picket fencing. We all have images in our minds of white picket fences lining the property of a beautiful family home. Wood picket fences are vulnerable to damage from wind, rain, and other weather events. A vinyl picket fence gives you this classic look, but with more durable and long-lasting material that will withstand the weather over time.
You may also want to add a unique fence to your property. We also install ornamental vinyl fences, which you can design based on your style preferences. We use PVC materials for our vinyl fences that never rust or need maintenance. We can help you design a fence, gate and post caps that capture the look you are going for.
Experienced Minnesota Fencing Contractors
A vinyl fence is a great choice for homeowners that live in Minnesota. It offers a fresh, clean look, that is strong, durable and requires very little annual maintenance. Twin Cities Fence has been installing and repairing fences in the Twin Cities area for more than forty years. Our crew is professional, reliable, uses high quality products and provides excellent customer service. We work all year round, and we even offer emergency fence repair should you have a problem with your fence during off-hours. We realize that it is a stressful time for many, so we are offering full-service installations in a 100% virtual format. This protects the safety of you and your family as well as our contractors. We can complete contact-free estimates, payments and other correspondence without ever compromising on our high-quality service. For more information about our vinyl fencing options, call us at 612-443-1948.