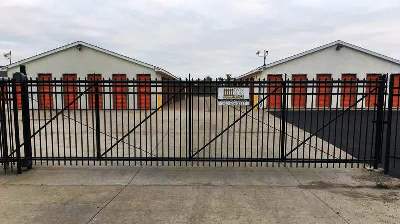 If your business is looking for a new fence, a fence repair or a fence installed that covers a large area, development or corporation, Twin Cities Fence can help. Many may assume that all we do is residential fencing projects, but we also have extensive experience with commercial projects. Our fencing contractors can meet all of your needs and will communicate clearly about price, timeline and other important details about the project.
We offer several different fencing materials to meet your company's needs including:
Cedar Wood Fencing: If you are trying to create a traditional look, a cedar wood fence is a great option to consider. We can install a wooden picket fence or a rustic split rail fence which are both great for marking pathways and property lines.
Vinyl Fencing: Vinyl is one of the most popular commercial fencing materials because it is durable, looks attractive, is very affordable and does not require much maintenance. It can be a great material for a commercial fencing project.
Steel and Aluminum Ornamental Fences: If you are looking to make your property look secure, installing a steel or aluminum ornamental fence is a great investment. You can customize the look to complement your property.
Privacy Fences: We offer wood, vinyl and chain link fences that can be used as privacy fencing to add a layer of protection and discretion to your property.
Galvanized Steel and Color-Coated Chain Link Fences: Chain link fences are affordable and high quality, able to withstand the weather of Minnesota. You can choose steel chain link or the PVC color-coated chain link fencing, which is even a bit more durable.
Commercial Fence Installation Services, MN
If you are unsure which material to choose for your commercial fence, our fencing contractors can help and provide a recommendation. We will ask you some questions about your goals, your budget, your business and the reason you are looking to add a fence. With more than forty years in the fencing business, we can match you with the perfect material for your needs. In addition to fence installation, our contractors can also install gates for your fences so that it can be accessible when you need it to be. We can install swing gates and roller gates for pedestrian traffic or drive-in access.
For more information about our commercial fencing options, call us at 612-443-1948 and we will answer all of your questions!