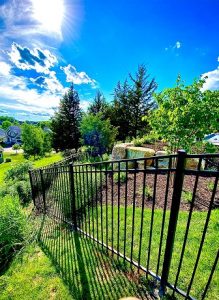 Both wrought iron and galvanized steel fencing bring an appeal and a sense of elegance to your home or business that is unparalleled by any other fence type. They are, however, two very different types of metals with their own unique benefits, so how do you choose what is best for your home or business? The fencing installation experts at Twin Cities Fence are here to help you decide what might be best.
Differences Between The Raw Metals: Wrought iron is an iron-alloy with a low concentration of carbon (the carbon content being the main difference between it and cast iron). Wrought iron is durable, yet malleable, resistant to corrosion and can easily be welded. Commercial usage of steel only became popular in the late 17th century. Steel is also an iron-alloy but includes other elements.
Durability: Both wrought iron and steel are extremely durable and can almost guarantee that your fence will last for many years. Steel is however slightly stronger than the wrought iron allowing it to withstand the elements just slightly better. On the other hand, wrought iron is more resistant to vibration or movement. This means that when something strikes the fence, wrought iron may develop a small crack that grows over time. Steel, when struck with force, generally snaps. If you live in areas that see more natural disasters, this can be a consideration point.
Price And Affordability: Design and type of fence become the biggest consideration when talking about overall costs. As for installation, the amount of welding and its complexity are considerations. Steel can be welded together with less effort and, once the sections of fencing are constructed, can be put together faster. Wrought iron however takes more time to weld but being more malleable means that the fence can be constructed faster.
Long Lasting: Steel does not have the longevity of wrought iron, but wrought iron is prone to rust or corrode faster. With proper care and attention however, even the wrought iron fence can be kept relatively rust-free and can withstand the test of time.
Twin Cities Wrought Iron And Steel Fence Installation Services
The differences between the two metal fences are subtle but carry important decisions in choosing which you prefer for your home or business. If you still are undecided or have further questions, call the metal fencing installation experts at Twin Cities Fence. Our experts are on hand to discuss the differences between the two and help you decide which to get. When you are ready to install, Twin Cities Fence comes with years of experience in fencing installation! Call (612) 443-1948 to speak with our experts or to schedule an installation.