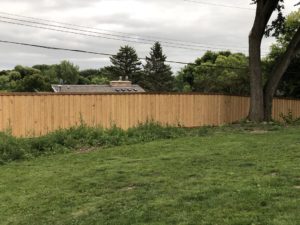 With the end of summer just a few weeks away, people are getting outside to take advantage of the warm season by hosting family gatherings, business parties, barbecues, play catch with the dog and more. If your Coon Rapids, MN home or business does not have a privacy fence installed then its about time to contact Twin Cities Fence to discuss the many affordable privacy fence options available today. Wooden privacy fences provide an excellent barrier from wondering eyes and sounds in the neighborhood. Professional installation is quick and easy so that you can enjoy the safety, tranquility and increased property value as soon as possible.
20 Benefits of Installing Wooden Privacy Fence
The benefits of having a wooden privacy fence installed on your Coon Rapids, Minnesota property are far greater than just a physical barrier around your home, office or business. A wood fence in particular provides many positive factors at a cost that is probably less than you think.
Increased Privacy
Choice of Wood
Customization Options
Increased Property Value
Attractive
Affordable
Sound Barrier
Low Maintenance
Decorative Hardware
Keeps Kids and Pets Inside
Keeps Intruders Outside
Cost Effective Security Solution
Enhanced Curb Appeal
Protection for Garden
Create Intimate Setting for Entertaining
Safety and Security Around Pool
Adaptability With Paint or Stain Colors
Defines Property Boundaries or Specific Area
Treated Lumber can Last for 40 Years or more
Match the Style of Your Home or Commercial Property
Wooden Fencing Options
When you picture a typical wooden fence, what does it look like? It is possible that each individual would answer this question differently because of the many different options available for wooden privacy fences. For example, one of the most popular styles of wood fencing utilizes a shadow box style where wooden rails are spaced apart to allow for greater airflow and reduced visibility. Other individuals may prefer a solid wood fencing or lattice design for a decorative touch.
More wooden privacy fencing customizing options:
An endless choice of paint colors, hues and stains that can be updated whenever you want.
Decorative design elements including lattice details, scallops, choice of hardware styles and finishes, posts and post caps.
Optional railings, flower boxes, shelving, varied heights or other creative design choices.
Several styles including convex, board on board, lattice top, dog-eared, plank and stockade.
Affordable Wood Fencing Installation Specialists
Choosing to have Twin Cities Fence design, construct, and install wooden privacy fencing on your property is a wise choice. We are a fence company with a reputation for excellence and service. Meet with one of our experienced wooden privacy fence installation specialists to discuss the numerous affordable wood fencing options available. You are sure to find an excellent fencing solution that provides value, security, style and many years of enjoyment.
In Coon Rapids, Minnesota, contact Twin Cities Fence at: (612) 443-1948