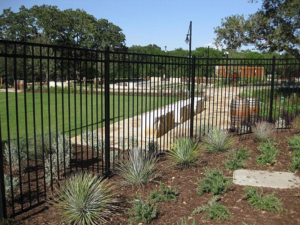 Its hard to argue with the appeal and nostalgia of properties with a decorative, ornate metal gate and fence. Iron fencing can look stately and refined until it becomes rusty and creaking with exposure to unrelenting weather conditions such as rain, snow, ice and hail. The problem with wrought iron fences, gates and railings is that iron may not be as weather resistant, durable or affordable as some of the iron look-alike fencing options from Twin Cities Fence. In the hands of an ornamental fencing contractor, iron fence alternatives like galvanized steel and aluminum fencing can provide a customized, decorative appearance without the cost, fading or cohesiveness associated with an rust-prone iron fence.
Metal Fencing Options
In the past only the wealthiest landowners could afford a metal fence. Ornamental wrought iron was hard to come by and very expensive to have made and installed. Fast-forward to 2018 and you will find wonderful metal fencing options that do not break the bank. Excellent choices that are both affordable and durable come in steel and aluminum with a variety of styles and details that create a beautifully customized appearance.
Galvanized Steel Ornamental Fences Installed
One of the best choices for creating a easy maintenance, distinctive aesthetic and security around a residential or commercial property is with the installation of a galvanized steel fence. An experienced fence contractor can provide you with several design details that will showcase the style of the home or business while keeping trespassers out. Twin Cities Fence uses a hot-dipped, polyester powder coat on our galvanized steel ornamental fences. This multi layer coating system creates a protective barrier to prevent rust, warping, bending, corrosion or other weather damage.
Optional decorative design elements for galvanized steel ornamental fences, gates and railings include the following:
Picket fence with or without top rails added
Finials, rings, spears tops, staggered spears, scrolls or rosettes
Aluminum Ornamental Fence Installation
The very popular aluminum fence is another excellent, maintenance-free material utilized for several types of commercial and residential applications. Who wants to spend time and energy maintaining a wrought iron fence when aluminum provides a very similar aesthetic at a much lower cost? Ornamental aluminum fences are built to be very strong and durable with the added benefit of customized detailing. Twin Cities Fence can install your new aluminum ornamental fence in a variety of styles to flatter your property and add essential security.
Optional decorative design elements for aluminum ornamental fences, gates and railings include the following:
Universal flat top, spear top, staggered spear top
Rings, machine made scrolls, rosettes or finials
Professional Metal Fence Installer MN
As a respected and skilled fence contractor, the pros at Twin Cities Fence can professionally install your new metal fence at any time of the year. We offer a wide variety of fencing styles and design elements that allow for a truly custom aesthetic. Weatherproof aluminum ornamental fences are our most popular and affordable option for residential homes. Galvanized steel ornamental fences provide a durable solution that looks like wrought iron but holds up beautifully against the elements and costs much less for homeowners and business owners alike.
Contact Twin Cities Fence at (612) 443-1948