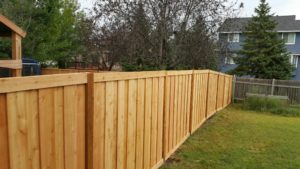 When choosing a fencing system for your home or business, your security needs and budgetary limitations are important factors in considering which fencing system might be right for you and your property. At Twin Cities Fence, we offer a variety of fencing styles and materials, all suited to different needs, including wood fencing, build to be a long-lasting fencing system that withstands years of weathering and heavy Minnesota storms. If you're in the market for a wooden fencing system, our Andover, Minnesota fencing contractors will help you choose between our wooden privacy fences, picket fences, and post and rail farm fencing, each perfect for different styles and needs.
Residential and Commercial Wooden Privacy Fencing
We provide Twin Cities wood fencing installation services to Minnesota home and business owners alike, offering wooden fencing systems made to keep your property secure. If you're in need of a security fence, or perhaps a visual barrier to keep your property private, a wooden privacy fence could be exactly what you need. Privacy wood fences are often used one commercial properties to limit access to restricted areas, mark property lines, and keep business private. At home, a wood privacy fence can be used to create a visual barrier between you and your neighbors, a necessity when you're living in close quarters. Privacy fencing is also useful in reducing noise pollution, providing shade, and blocking your yard from harsh winds.
Wooden Picket Fences
Picket fences have become the epitome of traditional home fencing. When we think of old-time family fencing, we think of picket fences. To bring back the traditional style to your home or complement your traditionally designed home, install a wooden picket fence. A wooden picket fence will provide both an aesthetic addition to your home and a measure of security to keep children and pets from leaving your yard unattended. Picket fences are also often used as aesthetic additions to business properties, giving your business a traditional feel that welcomes your customers and clients while outlining your property to create a well-kept appearance that separates your business from the rest.
Post and Rail Farm Fencing
Wooden post and rail fencing has become popular in recent years, used not just for farm fencing, but for aesthetic additions to homes and business. As split rail fencing has been used as farm fencing for centuries, it's made a name for itself as a rustic fencing system that can give any home or business the look and feel of farmland. Although wooden split rail fencing isn't as secure as a wooden privacy fence in keeping people out, it's often used to outline property lines to deter trespassers, keep livestock in, and create barriers on your property. If you're looking for wooden farm fencing for your farmland, home, or business, whether you're in need of livestock fencing or just a rustic fencing system, Twin Cities Fence can help. Contact our Andover, MN fencing installation company at 612-443-1948 or contact@tcfmn.com, and choose from our wooden split rail farm fencing, wooden picket fences, and wooden privacy fencing systems.