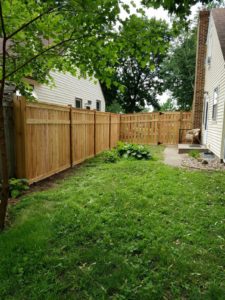 At the end of the day, there's not much better out there than a beautiful wooden fence. At Twin Cities Fence, we are wood fence installers in Blaine, MN that install age defying wood fences. We are constantly improving the functionality and beauty of Blaine, MN properties all around the city.
Times have changed since the era of your white washed picket fence. While the timeless picket fence is still available, even more wood fencing options are growing in popularity and adding beauty and definition to properties around the city. At Twin Cities Fence, we offer different types of wood fencing options including:
● Decorative Wooden Picket Fences: There is nothing wrong with being timeless and traditional. Picket fences are both charming and functional. They can be large enough to keep pets and children on a property yet small enough to not take away the grand view of your home. Whether you are going for the classic white look, or something stained and more unique, there is a variety of options for decorative wooden picket fences. Some offer unique designs, decorative tops, and even a entryway for your space. Picket fences are most definitely aesthetically pleasing to any traditional owner.
● Privacy Wood Fencing: Many homes in Blaine, MN are built very close together. When you feel like you need a little more privacy, this type of fence is ideal. Make a backyard oasis that is all your own by having a privacy fence that blocks potential onlookers from seeing in. These fences protect your property, define the property line, and enclose your pets and kids, keeping them safe in your own backyard.
● Wood Post and Rail Fence Systems: Whether you are doing it for cosmetic reasons or you have livestock that needs to be enclosed, this fence system is a gorgeous way to give your space the rustic or rural look and also keep larger livestock, like horses or cows, within your property.
● Steel Post Wooden Fences: Want something you know will last? Installing this fencing system will give you the look of a wooden fence but the strength of steel. With Minnesota weather, many homeowners opt for something they know will withstand any type of condition. Made to last, this is our strongest fencing system available.
Wooden fences are timeless and functional. They are the perfect resolution to almost any yard problem. If you are looking for a wood fence installer in Blaine, MN, look no further than Twin Cities Fence. For more information, give us a call today at 612-443-1948.