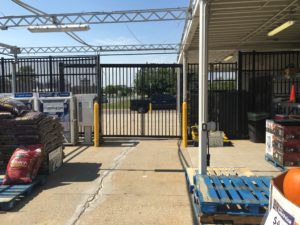 There are some repairs around your property that you can delay until you are truly ready to get the issue resolved. When it comes to your fence, that is one of the projects that can't be ignored. Not only can a faulty fence be a liability, but it may prevent your property from being secure. Whether you are looking for residential or commercial gate and fence repairs in the Blaine, Ham Lake or Andover, MN areas, our dedicated staff at Twin Cities Fence has you covered. Not only do we have the experience to handle your repairs, but we also have the proper equipment needed to get the job done quickly.
High Quality Commercial Gate & Fence Repair
Do you run a business in the area where your fence is critical for protecting your expensive equipment or goods? What good is a fence if it isn't working correctly? At Twin Cities Fence, we are happy to help return the fence on your commercial property back to 100% functionality. Is the gate on your fence giving you and your employees fits? Has the fence around your property recently been damaged? Well, thanks to our 24 hour emergency service, we have the dedicated staff to get your fence back to working order in a timely fashion. What is great about our team is that we work on all types of fences and gates, so you can bet that our team at Twin Cities Fence can tackle your repairs with ease.
Reliable Residential Gate & Fence Repair
At Twin Cities Fence, the residential repairs that are needed around Blaine, Ham Lake, & Andover, MN are just as important to us as the commercial projects. Our goal is to make our customers across the area feel like family. When calling our staff for any gate and fence repair needs, our customers have grown accustomed to quick responses, affordable prices, expert repairs and high quality materials. No matter what type of fence you have on your residential property or what type of repair you are dealing with, our staff can get your gate or fence back to full function in no time!
So, if you are looking for a gate and fence repair team that has four generations of experience in the Blaine, Ham Lake or Andover, MN areas, look no further than Twin Cities Fence. We even offer 24/7 emergency service if needed when it comes to your residential or commercial repair needs. Don't delay this necessary repair any longer. Give us a call today at (612) 443-1948 to learn more about our high quality gate and fence repair options.