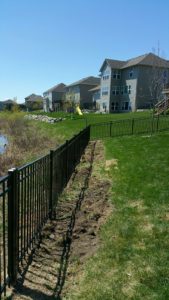 When it's time to build a fence around your home, whether it's surrounding your entire property, outlining your yard, or making one area of your home more secure, it's likely going to be an investment for you. That's why you need a reliable residential fencing contractor you can trust to make sure you get exactly the fencing system you need. At Twin Cities Fence, our Andover, MN residential fencing contractors are fourth generation builders, which means that we have years and years of experience building fences – including wood fences, vinyl fences, aluminum and steel fences, and chain link fences. Whatever type of fence you're looking to install on your property, we're here to help make it possible with professional and expert fence building services.
Types of Residential Fences
By choosing Twin Cities Fence to build your home's fencing system, you're giving yourself the opportunity to choose from the following types of fencing, each of which is best for different homeowners. It all depends on how much security you need, how durable you want your fence to be, and what fencing designs or styles you'd like to incorporate into your property's design. Our fencing materials include:
Contact our Andover, Minnesota residential fencing contractors at Twin Cities Fence at 612-443-1948 or contact@tcfmn.com, and get a free estimate for a fence for your home today!