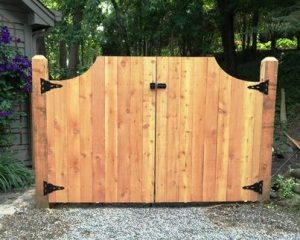 For years and years, wood fences have been a popular and traditional choice for both residential and commercial homes. There is something so classic about a wood fencing system that it just makes you smile. At Twin Cities Fence, we are a wood fence installation company in Minnesota that loves a quality wood fence as much as you do. If you are looking for quality wood fencing installation, consider our professionals here at Twin Cities Fence.
Wood Fencing Functionality
Wood fencing systems serve a multitude of purposes for property owners. First and foremost, it defines your property lines. Especially true in tight residential neighborhoods, wood fences allow for you to make use out of the space that you have within your property. They also add a sense of security to your space. Wood fences aren't exactly easy to jump over and depending on the height, your wood fence can give you an added amount of privacy that other fences just cannot. Did we also mention that it keeps small children and animals in your yard? If you own a pet or have kids, wooden fences are a great way to let them play in a safe place of their own.
Types of Wood Fence Installations
While we typically think of our wood fences as taller, privacy fencing systems, Twin Cities Fence offers a variety of install options. Privacy wood fences are wonderful when you are trying to provide your own backyard retreat in the midst of close quarters with neighbors. It also provides shade and protection as well as a noise barrier to control what comes in and out. We also have the option of decorative wooden picket fences. These fences still do a wonderful job of providing those boundaries for children and small pets, as well as delineating lines, however, they are lower and allow an easier, more decorative view for your property. Our wooden picket fences come in a variety of styles and options with all different types of decorative tops, patterns and curves to make your home unique. We also offer wood post and rail fence systems options at Twin Cities Fence. Looking for that rustic feel that adds a sense of rural beauty to your property? Whether you need to actually keep livestock and larger animals on your property or you are just trying to capture the aesthetics, we can help you!
No matter what type of wood fencing system you are looking for, Twin Cities Fence is here to help. For more information about your local wood fencing installation company in Minnesota, give us a call today at 612-443-1948.