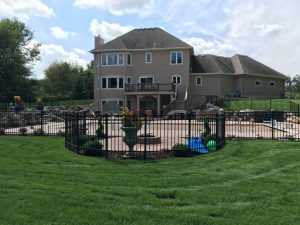 A steel fence gives your property a sleek and elegant look but is also extremely practical. It can be an ideal fencing choice for either a residential or commercial property. Steel fencing is strong, durable, long lasting and visually appealing. A steel fence offers a strong physical barrier but still allows you (or your guests) to see into the fenced area. Twin Cities Fence specializes in steel fence installation for homes and businesses in Minnesota.
Benefits Of Steel Fencing
Galvanized steel fences have the look of beautiful wrought iron fences that were popular many years ago. However, steel fences offer many benefits over those wrought iron fences. First, our steel fences can withstand the severe weather that Minnesota offers. Snow storms, thunderstorms, hail and wind are no match for a galvanized steel fence. Our steel fencing systems are coated with a multilayer coating system so they have extra protection against the elements, rust and corrosion. As a result, steel fencing is virtually maintenance free.
Fencing Option that Looks Great and Is Functional
In addition to the incredible functionality that steel fencing offers, it is one of the most popular choices because of its aesthetic appeal. Steel fencing allows you to show off your property, allowing others to see in, but still offers the safety and security that you are looking for when you add a fence. You also have many style options if you decide to have a steel fence installed on your property. Twin Cities Fence offers several galvanized steel fence styles, including picket fences with and without top rails, spear top and staggered spear top styles, and many other finials and rings that can help to create the perfect look for your property.
Trusted Minnesota Steel Fencing Installer
Twin Cities Fence has been installing steel fences (as well as many other types of fences) for homes and businesses in the Minnesota area for four generations. We can answer your questions about all fencing types and help you determine the best possible material for you, given your needs, your property and your budget. Steel fencing is ideal for the Minnesota area because it looks good and is not damaged by the harsh Minnesota weather. Our fencing contractors are professional, courteous, knowledgeable, prompt and easy to communicate with. We make the fence installation process as easy and straightforward as possible. For more information about residential or commercial steel fencing options, call Twin Cities Fence at 612-443-1948.