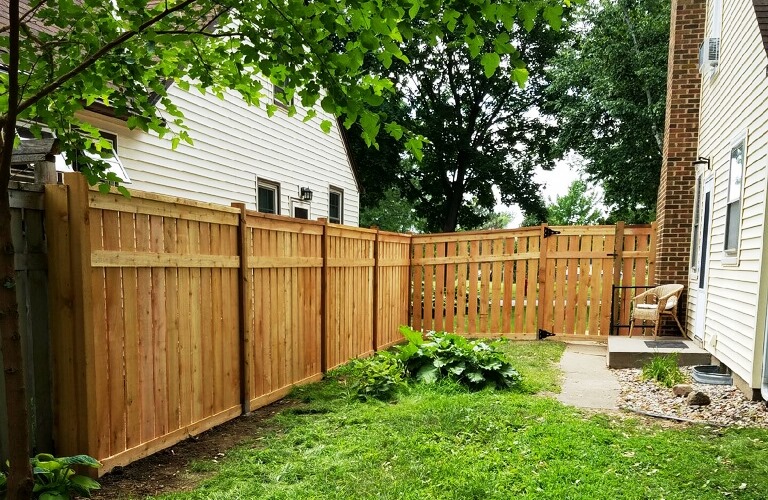 There is something very special about the way a well-chosen wood fence complements a home. Perhaps it is the fact that a wood fence provides a two-dimensional visual connection between the wood of the home's exterior and the surrounding trees. Whatever the reason, wood fences lend a nice quality and aesthetic appeal to most homes.
Twin Cities Fence is a highly respected installer of wood fences in Blaine MN. We have worked hard to build a reputation that begins with unsurpassed technical professionalism and is supported by unmatched customer service. Many fence installation companies can claim to have technical expertise or good customer service, but we view the two as inseparable. Without one, the other cannot exist. Fortunately for our customers, the two qualities go hand-in-hand. As a result, our reputation is not just as a reliable company, but as a trusted member of the community. And our reputation can be seen in neighborhoods throughout the area we serve.
Benefits of Wood Fences
The wood fences we install offer great versatility. You may want to prioritize the decorative quality of your new fence, which could translate to a lower profile using less material. Or you may wish to prioritize your family's privacy with a taller fence. If you want to emphasize durability, we offer steel post wooden fencing. To demonstrate the expanse of choices available to you, we offer a number of different colors among the wood materials we use, and we can design your fencing so that it not only complements the colors of your home but also the contours of your property.
Wood fencing is also extremely affordable to install and maintain and it is an excellent choice for finding the balance between your family's privacy, long-term durability, and the visual appeal that will make you proud of your home.
Experienced Wood Fence Installers in Blaine, MN
To some people, a fence may just be a fence. But in the hands of the team at Twin Cities Fence, fencing is also about possibilities. We certainly understand the technical aspects of installing a fence, but we can also help you determine the style of fencing that will make you the happiest. There are many combinations of style, material, and size for wood fences and we can help you choose the one that will fit your property best. For more information about installing a wood fence in Blaine, MN, call Twin Cities Fence at 612-443-1948.