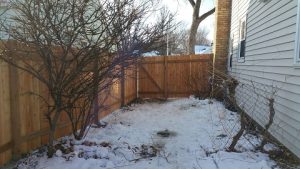 Winter can be a particularly harsh time for many parts of our property, from roofs and windows to yards and gardens. Be mindful that cold temperatures may wreak havoc on your fencing as well. Take a look at what winter can do to your fencing:
Winter brings in all sorts of precipitation, from rain and snow to ice and sleet. Any moisture can lead to issues in your fence, especially wood privacy fences which are especially susceptible to it; moisture causes mold growth, rooting issues, cracking woodwork and peeling paint or faded staining when left unchecked.
Watch out for rust: Rust can cause extensive damage to metal fencing due to weathering and other environmental elements. Not only does rust create an unsightly eye sore, but it may also indicate that your fence is becoming less durable; repairs may be necessary in areas with rust spots. The team at Twin Cities Fence can inspect your fence and give you an estimate as well as advice on next steps to take for safety and perimeter preservation.
Foundation shift: As temperatures in your yard and soil around your fence posts change with the seasons, moisture can affect its stability and movement within the fence. Furthermore, if posts aren't firmly secured into place, it could cause issues with panels attached to them.
Wood Woes: Temperature fluctuations can wreak havoc on your fence, especially if it's made of wood. We all know how quickly temperatures can change during transition times between winter and spring – with bright sun melting snow one minute and freezing conditions the next. These shifts leave wood vulnerable. Fortunately, with proper care your wooden fence will stay looking beautiful and functioning optimally for years to come!
Fence Repair Replacement And Installation
We can assess your property or fence and suggest the most suitable option. With thousands of installed fences under our belts over time, you can count on our expert advice. Feel free to reach out via our online contact form with any questions you may have! 24-hour emergency fence repair services available!