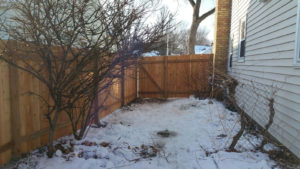 It's funny how the winter changes your perspective on everything. The trees that you thought gave your property a little privacy are bare and everyone can see your home or business. At Twin Cities Fence, we are Minnesota's premier winter privacy fence installer. If you are ready to get that privacy fence up, you no longer have to wait for spring! Twin Cities Fence has all the experience, materials and tools to work year round.
Privacy Fence
Privacy fences are ideal for both residential and commercial properties. They come in all shapes and sizes and can be made in all different types of materials. Privacy fences have many different functions and styles. The primary function of a privacy fence is, of course, privacy. Additionally, they can be helpful with noise reduction, some additional shade, and added protection for your property.
Types of Privacy Fencing
Wood Fences: This type of fence seems to be your traditional, "all American" fence. It is primarily utilized in neighborhoods and definitely keeps wandering eyes away from your property. It adds a classic look to any property line and can be painted to match your home or business perfectly.
Vinyl Privacy Fences: If you are looking for the most up and coming fence, vinyl fencing will be a great choice. Not only does it do its job and provide you with privacy, but it is extremely appealing to the eye. Additionally, these fences are made with PVC and they do not warp, rust, rot or corrode. This means a lot less maintenance than any other fencing system on the market.
Chain Link Fences: While most assume that a chain link fence can't provide you with privacy, many homes and businesses are starting to lean towards this style. Chain link fences can give you the privacy you need when we apply decorative polyethylene slates and add a tinted layer of protection. Not only is it aesthetically pleasing, it is also very functionally appropriate.
So no matter what type of fencing system you decide on, Twin Cities Fence has got the right fence to match your style and your budget. If you are ready for a winter privacy fence installer to come to your property and install your dream fence today, give Twin Cities Fence a call. We will sit down with you to discuss the best options for you. Serving all around Minnesota, give Twin Cities Fence a call today at 612-443-1948.